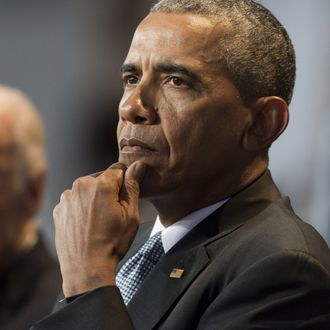 Obama out.
Photo: Saul Loeb/AFP/Getty Images
The final jobs report of Barack Obama's presidency hit Friday morning, and the results were mixed. The economy added 156,000 jobs in December, falling short of the 175,000 jobs economists expected. The unemployment rate creeped up to 4.7 percent in December, a tenth of a percentage point higher than November, which set a record low for post-recession unemployment.
On the positive end, wages ticked up 0.4 percent in December, or 10 cents an hour. Year-over-year wages are up 2.9 percent. That's the best 12-month increase in wages since the recovery began, in the middle of 2009, but it's still below where it needs to be.