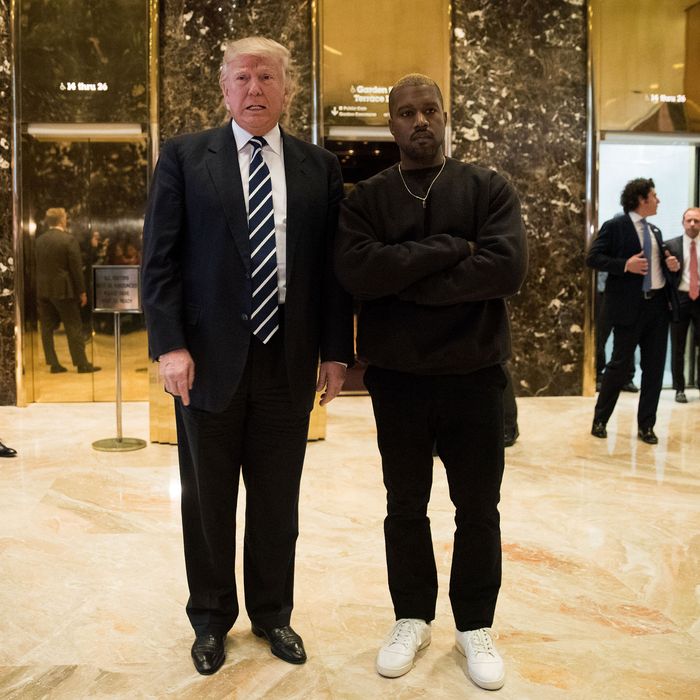 Donald Trump and Kanye West.
Photo: Drew Angerer/Getty Images
Today, Donald Trump's press secretary, Sean Spicer, announced that the White House would host a series of events in February for Black History Month.
I won't reveal my source inside the White House, but I'm pretty sure this is the schedule.
Feb. 1: "Inner City Blues": Donald Trump kicks off Black History Month by explaining the lessons blacks can learn from his interpretation of Marvin Gaye's album What's Goin' On.
Feb. 2: Film Screening, Birth of a Nation (1915).
Feb. 3: Postal Service Unveils Its New Steve Harvey Stamp.
Feb. 4: "So About That Harriet Tubman $20 Bill Rumor …": A Conversation with Treasury Secretary Steven Mnuchin.
Feb. 5: "Patriots Day": A Super Bowl Extravaganza Celebrating Anyone That Has Ever Played for the New England Patriots That Is a Black.
Feb. 6: Keynote Address: "Blacks Can Be Racist, Too," by Charles Barkley (Part 1 of the White House's 4-part Blacks History Month "Healing" Series").
Feb. 7: The 1st Annual Blackface Ball ($100 admission if you come in blackface, $150 if you plan to get painted once inside).
Feb. 8: Performance of Porgy and Bess starring Ben Carson and Omarosa Manigault.
Feb. 9: "What Up, My Nigga?" A Funky Fresh White House Hip-Hop Party, DJed by Tomi Lahren.
Feb. 10: Chrisette Michele Concert on White House Lawn (Starts at 5:15 p.m., goes until dusk; President Trump will not be in attendance).
Feb. 11: TBD Chicken Event.
Feb. 12: Film Screening, Hidden Fences (2016).
Feb. 13: "The Future of The Non-Violent Black": A Conversation With Ray Lewis and Sheriff David Clarke.
Feb. 14: "Black Love": Celebrate Valentine's Day With Donald and Melania.
Feb. 15: "Still, I Rise": Cam Newton Reads the Classic Maya Angelou Poem, Followed by a Discussion on Why He Never Knelt (moderator: Frank Luntz) (Part 2 of the White House's 4-part Blacks History Month "Healing" Series").
Feb. 16: Stacey Dash Meet-and-Greet (tips accepted).
Feb. 17: "The Sugar": A Look Back at All the Great Blacks Who Have Gotten Diabetes and Still Found a Way to "Keep on Keepin' On."
Feb. 18: "Sista 2 Sista: What It's Like to Be a Black Woman in America": A Discussion with Kellyanne Conway, Alex Jones, Ann Coulter, and Dinesh D'Souza.
Feb. 19: Film Screening, Crash (2004) (Part 3 of the White House's 4-part Blacks History Month "Healing" Series).
Feb. 20: A Celebration of Soul Music, With Performances by YouTube Sensation Michael McDonald Trump.
Feb. 21: Kids' Day (Bring your child for a once-in-a-lifetime photo-op with the bust of Martin Luther King Jr. and Steve Bannon).
Feb. 22: The 1st Annual "All Lives Matter Including Blacks But Not Only Blacks But Blacks Are Most Certainly Included As One of the Many Groups Whose Lives Matter" Rally.
Feb. 23: "From Marian Anderson to Candy Carson": A Celebration of Legendary Woman Singers Who Are Blacks.
Feb. 24: "White Men Can Jump": A Celebration of White Dunkers in the NBA and How They Ended Racism (Part 4 of the White House's 4-part Blacks History Month "Healing" Series)
Feb. 25: "Black Hair, Don't Care": A Celebration of Black Hair, with keynote speech by Jimmy "Rent Is Too Damn High" McMillan (admission is $100, or $200 to touch various black hair).
Feb. 26: "If You're a Christian Black, You Have to Love Donald Trump or You Will Go To Hell": An Electrifying Sermon by a TBD Black Megachurch Preacher Sure to Shake the Holy Water Out Your Jheri Curl Bae, LORDAMERCY.
Feb. 27: Donald Trump announces his plan to build ships that will take you back to Africa if you are a Black and your Social Security number is nine digits.
Feb. 28: Announcement of March, May, August and November as White History Months.