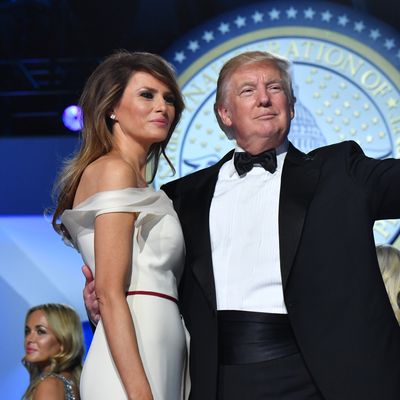 President Donald Trump and First Lady Melania at the Freedom Ball.
Photo: Pool/Getty Images
After stopping by the Oval Office to issue an executive order to dismantle Obamacare, President Trump continued his inaugural celebration with appearances at three balls.
At the Freedom Ball and the Liberty Ball, which were both held in the Walter E. Washington Convention Center, guests got to see the acts Trump claims he prefers to the A-list talent who snubbed him. There were performances from the Rockettes, the kid band Pelican 212, and Michael Flatley's Lord of the Dance troupe. Twitter was not impressed, particularly when the Piano Guys did an instrumental cover of Rachel Platten's "Fight Song," the unofficial anthem of Hillary Clinton's campaign.
Platten objected on Twitter:
The first couple showed up to the Liberty Ball shortly after 9:30 p.m. Trump started with a brief speech describing his win. "Today we had a great day," he continued. "People that weren't so nice to me were saying that we did a really good job today. They hated to do it, but they did it."
Though it started raining just as Trump began delivering his inaugural speech, he claimed that drops only began to fall after he finished his address. "It was like God was looking down on us, I will tell you," he said.
Then they danced to a cover of Frank Sinatra's "My Way," with the president mouthing the words at parts. They were joined by Vice-President Mike Pence, his wife Karen Pence, and the two couples' adult children.
Trump delivered similar remarks upon arriving at the Freedom Ball, but this time, he asked the crowd if he should "keep the Twitter going or not?" The crowd cheered that he should. "The enemies keep saying, 'Oh, that's terrible,'" Trump said, "but it's a way of bypassing dishonest media, right?"
The last stop was the Armed Services Ball at the National Building Museum, where about half of the guests were members of the military. "I like you for a lot of reasons. Also I like the fact that you all voted for me," Trump said. He also spoke to troops in Afghanistan via satellite link, and took the opportunity to criticize the press again. "I like them much better than I like the media," he said, referring to the troops. "These are much nicer people, finer people."
Melania Trump delivered her first remarks since becoming First Lady, then the couple danced to a cover of "I Will Always Love You." "Thank you all for your service," she said. "I'm honored to be your First Lady. We will fight, we will win, we will make America great again."
Then the Trumps and Pences ended their night by cutting a huge red, white, and blue cake with a saber.
But there was still time for one more controversy. Pastry chef Duff Goldman of Charm City Cakes suggested on Twitter that someone copied the cake he made for the Commander-in-Chief Ball in 2013 without his permission.
Questions of cake plagiarism aside, it could have been worse.