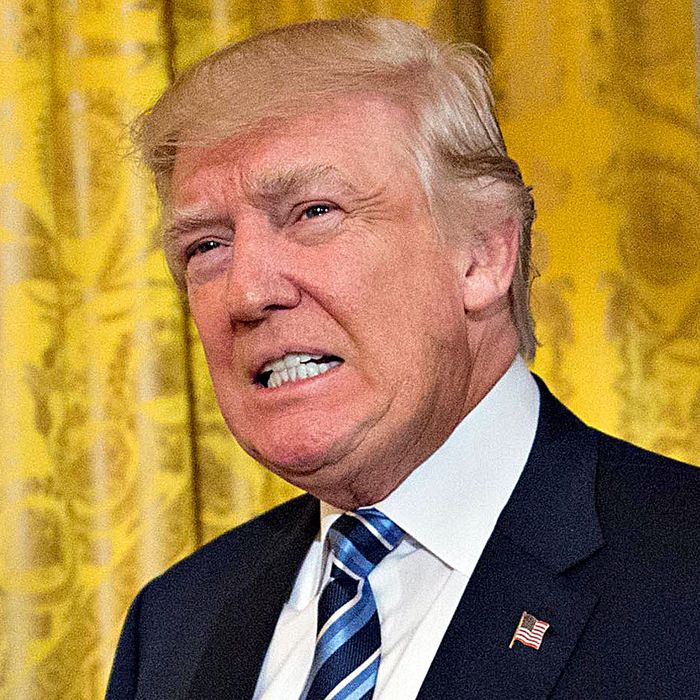 Shortly after 9 p.m. last night, Donald Trump launched another salvo at CNN, tweeting: "Congratulations to @FoxNews for being number one in inauguration ratings. They were many times higher than FAKE NEWS @CNN - public is smart!" CNN tweeted back that they had matched Fox in Nielsen numbers: "Those are the facts."
Trump's attacks on CNN may be a response to the network's recent coverage, which Trump views as biased and unfair. But sources say there may also be a personal dimension at play: According to people close to both sides, Trump has told White House staffers that he feels personally betrayed by CNN chief Jeff Zucker.
Trump complains that Zucker should be programming CNN more favorably toward him because of their long relationship, which can be traced back to 2004 when Zucker put The Apprentice on NBC. Trump has also said to White House staffers that Zucker owes him because Trump helped get him the job at CNN.
According to CNN sources, Trump's claim that he assisted Zucker in landing the top job at the network is false. Trump seems to have gotten the idea because he praised Zucker to Turner Broadcasting's then-CEO Phil Kent at a charity dinner in the fall of 2012, a few months before CNN hired Zucker. But CNN sources say Turner had already decided to hire Zucker by that point. "This is entirely personal," one CNN high-level source said. "Trump thinks just because he's known Jeff that CNN should be covering him like Fox News does."
White House press secretary Sean Spicer dismissed the idea that Trump has a personal beef with Zucker. "To think he's sitting around worried about Jeff Zucker is a little ridiculous," Spicer said.
During an interview last week, Zucker told me his history with Trump had no influence on CNN's coverage. "Obviously we've known each other for a long time," he said. "Just because I've known somebody for more than 15 years doesn't mean they get a pass."