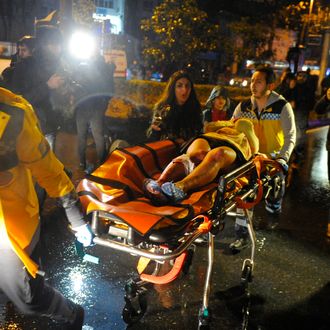 One of the many wounded in Sunday's terror attack in Istanbul.
Photo: Ihlas News Agency/AFP/Getty Images
The Islamic State has claimed responsibility for the New Year's Eve attack at an Istanbul nightclub that left at least 39 people dead and another 69 wounded.
In a statement published on Twitter and by an affiliated news agency, ISIS called the shooter "a heroic soldier of the caliphate" and referred to Reina, the nightclub where the shooting occurred, as a place "where the Christians celebrate their apostate holiday." The statement also warned of further attacks if Turkey continues its military involvement in Syria.
"The apostate Turkish government should know that the blood of Muslims shed with airplanes and artillery fire will, with God's permission, ignite a fire in their own land," it said. Though ISIS has been blamed for terror attacks in Turkey before, this is one of the first times it's claimed responsibility. Despite the claim, it's still unclear if the attack was organized by ISIS or if the shooter was simply inspired by the group.
Meanwhile, Turkish authorities have arrested eight people in connection with the attack, according to state-run news agency Anadolu. None of those arrested by Istanbul's anti-terror squads is thought to be the attacker, but reports from Turkish papers suggest police are getting a better idea of who the man is. He's believed to be from Uzbekistan or Kyrgyzstan and police have reportedly said that he is in his mid-20s and spoke broken Turkish during the attack.
The attacker is thought to have dropped his weapon, a Kalashnikov rifle, after firing as many as 180 bullets into the nightclub during the seven-minute attack. He then took "advantage of the chaos" to escape the club, Turkey's prime minister Binali Yildirim said.