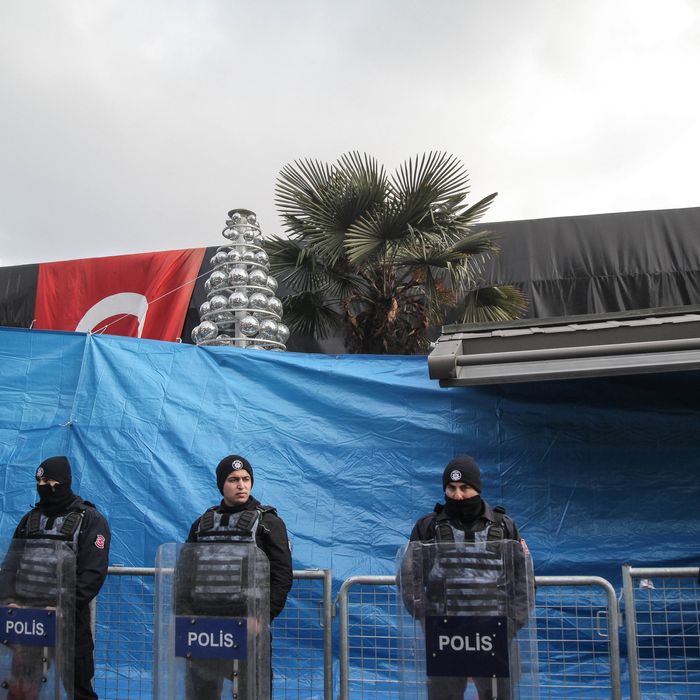 Police officers stand guard outside the Reina nightclub on Sunday.
Photo: Daghan Kozanoglu/Getty Images
At least 39 people are dead and 69 wounded after a gunman attacked a popular Istanbul nightclub on New Year's Eve in Turkey. A manhunt is currently underway for the gunman, and no terrorist organization has yet claimed responsibility for the attack, which struck the upscale Reina nightclub on the coast of the Bosphorus in the European part of Istanbul. The gunman, armed with a Kalashnikov assault rifle, struck around 1:15 a.m. Sunday, first killing a police officer and civilian outside the club, then entering and opening fire on the as many as 700 partygoers inside. Initial reports that the attack was carried out by three gunmen dressed in Santa Claus suits appear to have been incorrect. Instead, the apparently lone attacker was dressed in black, and reportedly shouted "Allahu Akbar" during the assault, according to witnesses. Some reports indicate that the assailant may have been armed with bombs as well.
Panicked revelers rushed for the exits once the attack started, and some apparently jumped from the club's patio into the Bosphorus in order to swim away from the carnage. Witnesses said they saw dozens of bodies on the floor of the club, and many of the survivors apparently had to climb over the fallen to escape. Some witnesses reported seeing multiple attackers, but Turkish authorities have said they are currently looking for only one assailant, and video footage of the attack appears to show only one perpetrator.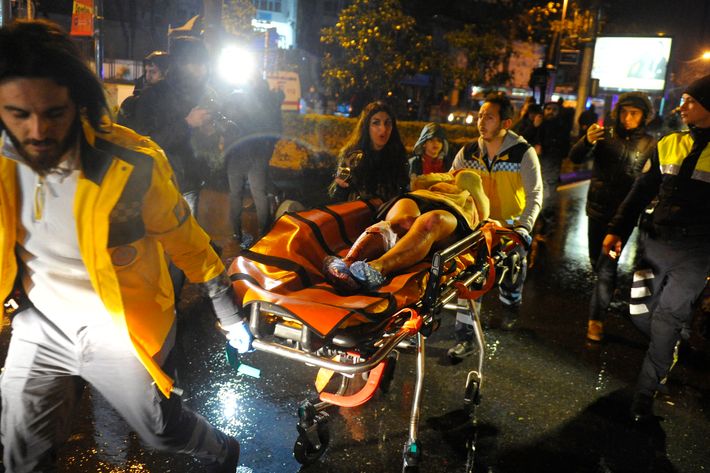 At least 24 of the dead were foreign nationals, according to a Turkish MP, including seven Saudi Arabians, three Iraqis, and others — some of whom were dual-nationals — from Lebanon, Tunisia, India, Syria, Israel, France, Belgium, and Kuwait. At least 11 Turkish nationals were killed as well. Four of the 69 people who were injured remained in critical condition on Sunday. One American is reportedly among the injured.
The Reina club, which has a patio which overlooks the Bosphorus in the Ortakoy district of Istanbul, caters to an affluent secular clientele, including foreigners and Turkish celebrities. The club's owner said they had bolstered security in advance of the New Year's Eve celebration after American intelligence officials had warned Turkish authorities and Americans in Turkey of a possible large-scale attack by Islamist terrorists. President Obama offered his condolences over the attack while on holiday in Hawaii. Other world leaders have done the same and swiftly condemned the attack as well.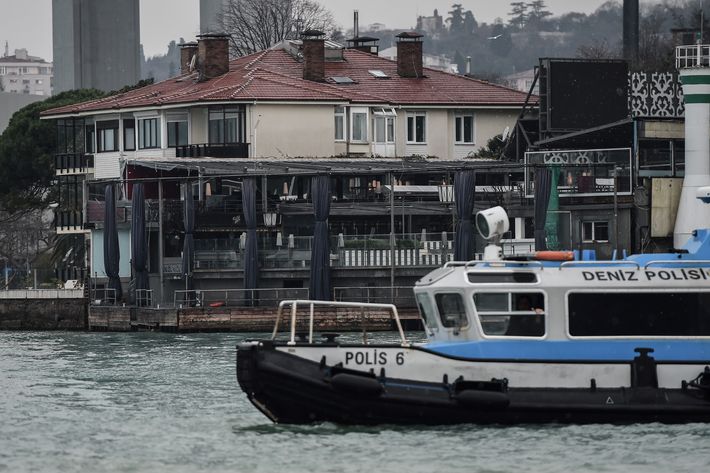 The BBC reports that some 17,000 Turkish police officers were already on duty in Istanbul following the numerous terrorist attacks that have been carried out in Turkey over the past year, as well as a failed military coup in July. A bombing in early December killed 44 people, mostly police officers, outside a soccer stadium in Istanbul. That attack was likely carried out by Kurdish separatists, who typically target Turkish military or police personnel. Large-scale attacks on civilians, like the one in June at Istanbul's Atatürk airport, or the August bombing of a wedding party in the city of Gaziantep, were conducted by ISIS-linked terrorists. At least 152 people have been killed across six attacks in Istanbul over the past year, and many other cities in Turkey have suffered similar violence as well: