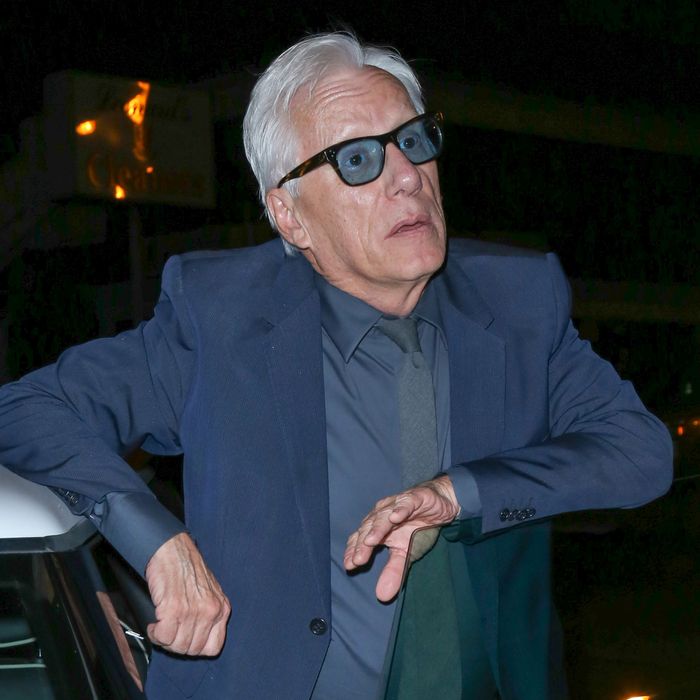 Photo: gotpap/Bauer-Griffin/GC Images
When "Abe List," an anonymous Twitter user, called James Woods a "cocaine addict" on the social-media service back in July of 2015, he probably didn't realize that he was starting a legal fight with the Hollywood star that would follow him not only to the grave but beyond it. But apparently he underestimated Woods's obsessive desire for vengeance.
First, Woods famously responded to List's ridicule by suing the tweeter for defamation, seeking $10 million in damages against "John Doe," as he was named in the suit. Doe's lawyer, Ken White (who writes about legal and free-speech issues under the pen name Popehat on his website and on Twitter), filed an anti-SLAPP motion seeking the case's dismissal, arguing that "cocaine addict" was "a constitutionally protected political insult" in a Twitter context and shouldn't be viewed as a statement of fact — especially given that Woods had used similarly inflammatory language to insult others on the social-media platform. The judge denied that motion in February, meaning the case could continue. Doe appealed that decision, but subsequently died, causing White to withdraw the appeal.
On Twitter, Woods celebrated. "The slime who libeled me just dropped his appeal contesting my victorious SLAPP motion," he tweeted. Then, after someone replied noting that Woods had been "victorious" because his adversary had died, Woods tweeted (and later deleted), "Learn this. Libel me, I'll sue you. If you die, I'll follow you to the bowels of Hell. Get it?" He also expressed a hope that Doe died "screaming my name."
He meant it! Woods decided not to let Doe's death slow down the lawsuit, and at a deposition in mid-November, White refused to give up his client's name, so Woods pressed yet further, filing a motion to compel him to. Now, reports The Hollywood Reporter, the presiding judge has ruled on that motion — White will have to reveal Doe's identity. That is: the name of his client, who is dead, who was sued for $10 million for tweeting something mean at a celebrity. Woods's lawyers had also sought sanctions against White for refusing to give up his client's identity, but that attempt was rebuffed.
"In free speech litigation, sometimes the bad guys win," said White via DM. "You dust yourself off and get ready for the next fight. I'm pleased that the court denied Mr. Woods's frivolous demand for sanctions, and that the court refused the request to compel responses to several other questions that would have violated the attorney-client privilege. For now, I remain proud to have represented Abe Doe and opposed James Woods, a classic bully who can dish it out but can't take it."
Woods's lawyers, of course, see it differently. "This is a significant step forward in our ability to recover the millions in damages caused by John Doe's cowardly Tweet," Michael Weinsten of Lavely & Singer told the Reporter. "It also sends a message to others who believe they can hide behind the anonymity of online social media to falsely accuse public figures of heinous behavior without recourse to themselves." Whatever else this is, it certainly is a strong message about James Woods.