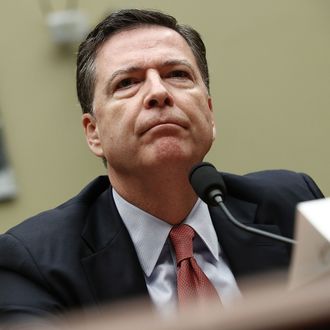 The investigator is now the investigated.
Photo: Win McNamee/Getty Images
Michael Horowitz, inspector general of the Justice Department, announced an investigation into the FBI's handling of its inquiry into Hillary Clinton's private email server, including the now-infamous Comey letter. The review, which will also cover Justice Department actions in the email investigation, has been initiated at the request of members of Congress and the public, the IG's office said in a statement.
The letter James Comey sent to Congress on October 28 informing members of new Clinton emails found on Anthony Weiner's laptop has been blamed, in part, for Clinton's loss. It resulted in a torrent of bad headlines, reigniting the email "scandal." A second letter, released two days before the election, said the new emails were insignificant, but Clinton claims it did even more damage than the first letter. Just two days before polls opened, Trump's complaints of a "rigged system" were given new life.
In addition to the timing of Comey's letters, Horowitz will investigate whether members of the FBI and DOJ improperly leaked information about the investigation and whether certain officials should have recused themselves from the probe.