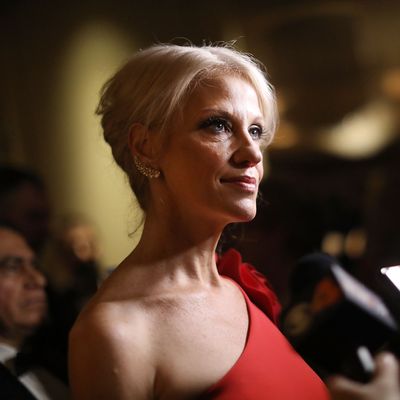 Kellyanne Conway, most valuable member of the SNL team.
Photo: Spencer Platt/Getty Images
This is how intense the news has been for the past four days: One of President Trump's top advisers reportedly got into a fist fight at an inaugural ball, and no one noticed.
On Saturday afternoon, Fox Business correspondent Charlie Gasparino wrote on Facebook that a fight broke out between "two guys in tuxes" during one of the parties, and "suddenly out of nowhere came trump [sic] adviser Kellyanne Conway who began throwing some mean punches at one of the guys." He said no one was hurt "except maybe the dude she smacked," adding, "Now I know why trump hired her. Btw I exaggerate none of this."
Gasparino also tweeted:
On Monday, Gasparino reposted the Facebook message because "there are some erroneous reports out there on the inaugural incidents." Initially Gasparino's claim in the same post that he and Trump supporter Scott Baio were harassed outside the Liberty Ball drew more attention. On Twitter, Baio and his wife, Renee, retweeted Gasparino's account of the incident.
Conway has yet to comment on the claim, but she did reveal on Monday that she has Secret Service protection. Conway is perhaps the most recognizable member of Trump's staff, but she told Sean Hannity she's a target "because of what the press is doing now to me."
"We have packages delivered to my house with white substances," she said. "That is a shame."