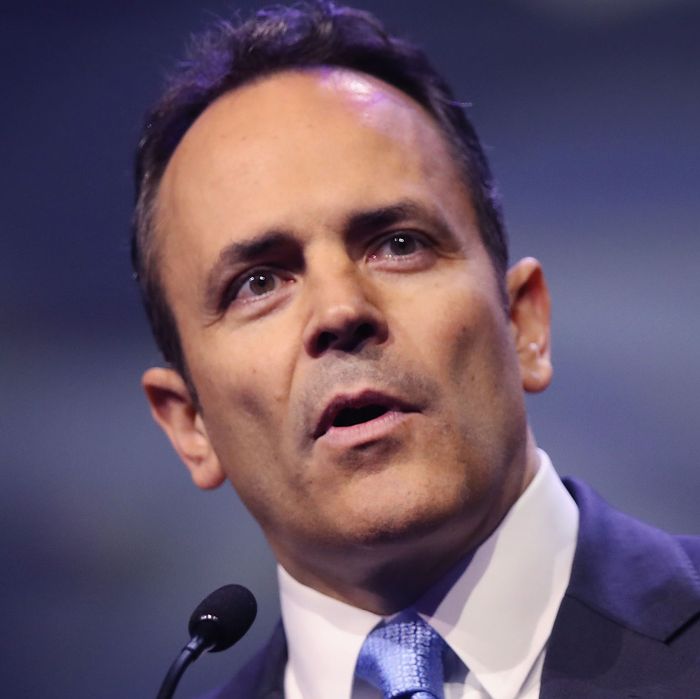 Kentucky GOP governor Matt Bevin has presided over a speedy legislative blitz to undermine unions.
Photo: Scott Olson/Getty Images
Those who are looking ahead, with hope or with trepidation, to what a Republican Congress and administration will do, understandably focus on things in the news: how they will deal with Obamacare and immigration policy and tax policy and some of the, well, exotic opinions of the president-elect.
But it is important to remember that there are less visible issues on which a conservative Republican trifecta could change America in significant ways. One of those is labor law. And as Justin Miller points out at The American Prospect, we are getting a rare glimpse at how this might play out in Kentucky, where a new Republican-dominated regime has just taken over state government with the GOP's conquest of the legislature in November.
It didn't take long for Republican legislators to introduce their stable of anti-union measures: a right-to-work bill that bans unions from requiring mandatory dues for all workers covered by their contracts; a repeal of the state's prevailing wage law, meaning that public construction projects would no longer be required to pay their workers based on a community survey (usually meaning a union pay-scale); and banning public-employee unions from striking and from using member dues for political contributions.
All three of those bills have already been enacted in the week since the current legislative session began, along with a much more publicized 20-week abortion ban.
We could see a similar degree of anti-union determination in Washington, at least in actions that are not subject to a Senate filibuster:
Republicans in the House and Senate will soon begin pushing for a national right-to-work law and a repeal of the Davis Bacon Act (the federal prevailing wage), bringing to the national stage what has for the past decade been limited to state-level fights. Trump has already indicated his support for a national right-to-work law and his top allies, from Vice President-elect Mike Pence on down, have close ties to the Kochs' anti-union political crusade in the states.
What has happened is that the old anti-union animus of conservatives has completely taken over the GOP, with no sense of restraint. That is actually a new thing. Worshipers of Ronald Reagan have probably forgotten that their hero's designated 1976 running mate, Senator Richard Schweicker of Pennsylvania, earned a 100 percent rating from the AFL-CIO. That was unusual, but not unimaginable, as it would be today.
The symbol of this new mood is Donald Trump's choice as secretary of Labor, Andrew Puzder, whose entire background is in fighting collective bargaining and a higher minimum wage in the fast-food industry. There is no pretense of objectivity here; Republicans are abandoning indirect attacks on unions and going for the kill.