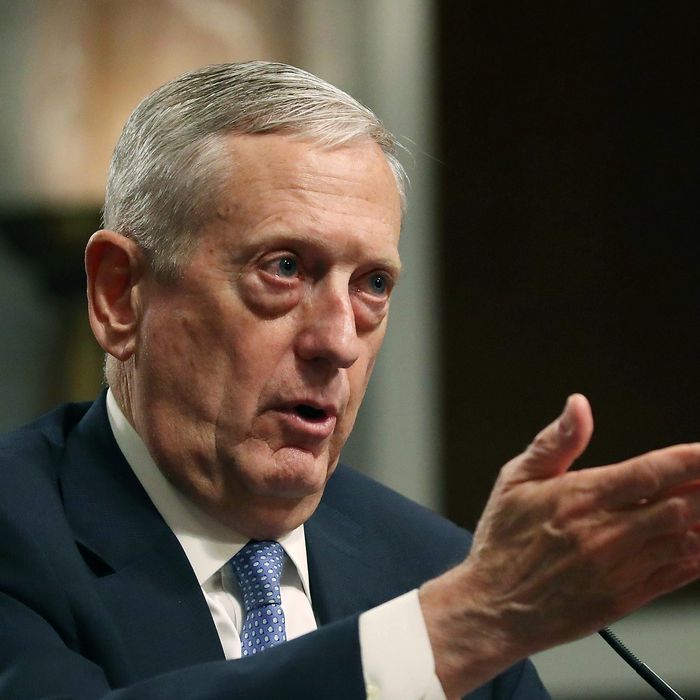 Not mad.
Photo: Mark Wilson/Getty Images
Retired Marine General James Mattis is nicknamed "Mad Dog" – a reference to his love of swearing and killing enemy soldiers. He has said that "it's a hell of a lot of fun to shoot" members of the Taliban, and told Iraqi military leaders, "If you fuck with me, I'll kill you all." The general was such a fervent opponent of the Iran nuclear agreement — and staunch proponent of covert confrontation with Tehran — President Obama relieved him of his duties in 2013.
In 2004, Mattis ordered the bombing of a supposed safe house for foreign fighters in Iraq — but which witnesses, Associated Press video, and the bodies of dead children all suggested was actually a wedding party. "These were more than two dozen military-age males. Let's not be naïve," Mattis said, amid the ensuing controversy. "I have not seen the pictures but bad things happen in wars."
Despite all this, Mattis very well may be the most comforting cabinet pick that Donald Trump has made. This was the widespread consensus when Trump first announced Mattis's nomination for secretary of Defense, and the ex-general's testimony in his confirmation hearing reaffirmed that common wisdom.
On Thursday, Mattis reassured Senate Republicans by breaking with Trump on Russia and NATO.
"If we did not have NATO today we would need to create it," Mattis told the Senate Armed Services committee, explaining that America "must harness renewed political will to confront and walk back aggressive Russian actions and other threats to the security of its members." The would-be Defense Secretary assured John McCain that he supports a permanent American military presence in the Baltics.
Trump, by contrast, has suggested that his support for NATO is conditional on America's partners increasing their defense spending — or else paying the United States to protect them. And, of course, the president-elect lives by the motto, "If you don't have anything nice to say about Vladimir Putin, don't say anything at all."

At other points, the ex-general gave comfort to Senate Democrats, by reiterating his belief that it would be unwise to "rip up" America's nuclear deal with Iran, as the president-elect has pledged to.
"I think it is an imperfect arms-control agreement — it's not a friendship treaty," Mattis said. "But when America gives her word, we have to live up to it and work with our allies."
Mattis, nonetheless, provided plenty of red meat to the Senate's Iran hawks, describing Tehran as the "biggest destabilizing force in the Middle East" and calling for a new strategy to "checkmate Iran's goal for regional hegemony."
The ex-general also declared his opposition to deliberately murdering terrorists' families, as the president-elect once proposed.
Mattis is the only Trump pick that Democrats have the power to block — military officers are barred by law from serving as Defense Secretary until they've been out of the armed forces for seven years. Thus, to be confirmed, Mattis will need to secure a waiver. And to do that, he'll need to receive a filibuster-proof majority of support in the Senate.
But according to Politico, after Thursday's hearing, Democrats made clear "their resounding support for the retired Marine Corps general, touting him as their best hope for reining in a president-elect who has unorthodox views on matters of war and peace."
Three Democrats on the Senate Armed Services Committee — Elizabeth Warren, Kristen Gillibrand, and Richard Blumenthal — voted against granting the waiver Thursday, but the majority of their co-partisans did not. By a 24 to 3 vote, the committee approved the waiver, sending it to the floor of the upper chamber for a full Senate vote.
And it isn't hard to see why Democrats would give Mattis the green light. Unlike Betsy DeVos, Andy Pudzer, and Scott Pruitt, Mattis is not hostile to the core mission of the agency he's been picked to lead. And unlike Trump's other national-security picks, Mattis is not a (self-avowed) Islamaphobe, or oil-company executive who isn't sure if Rodrigo Duterte has committed war crimes.
Considering whom Trump might turn to were Mattis's nomination shot down, it would be reckless for Democrats to deny him confirmation.
Which is to say: The alleged war criminal nicknamed "Mad Dog" is about as sane as a Trump cabinet pick is gonna get.