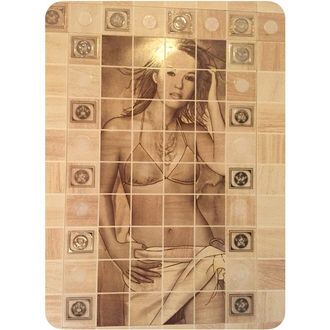 The alleged tile rendering of Ms. Moore.
Imagine buying yourself an apartment, hopping into the shower for the first time, and turning around to discover a mosaic of a bikini-clad Mandy Moore in sepia-toned tiles staring back at your naked body. Because, uh, well, that allegedly happened to a friend of a friend of Twitter user @walkerkaplan. (Kaplan confirmed to Select All the photo is legit as far as he knows.)
If you had anything to do with this mosaic — you're the previous apartment owner, the artist, the person who grouted the tiles, Mandy Moore herself — please PLEASE get in touch with me. I have many questions about this possibly gross, potentially reverent, and incredibly lifelike piece of art and you are my only hope of answering them.