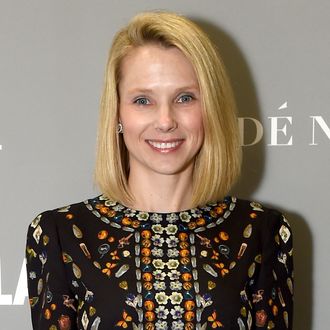 She is free.
Photo: Emma McIntyre/Getty Images
As Yahoo moves to close its sale to Verizon, the company is making a few major changes. The first is that Marissa Mayer, who joined the company in 2012 in an attempt to save it, will no longer serve as CEO. The company's board will be reduced to five seats, down from 11 previously.
Also, the name Yahoo (stylized: Yahoo!) is dead. According to the filing, "The Board also determined that, following the Closing, it intends to cause the Company's name to be changed to Altaba Inc."
Altaba. A name that rolls off the tongue like the third runner-up of TechCrunch Disrupt, or a pill advertised during golf tournaments. The most recent WHOIS records for the altaba.com domain show that Yahoo has owned the URL since at least late October of last year, so this isn't a sudden development.
Those are the only important bits of info contained in the SEC filing. Verizon announced its intent to pick up the long-stumbling Web 1.0 behemoth for a bargain price (no joke) of a little more than $4 billion last year, mostly as a way to bolster its advertising technology. The fate of consumer-facing services like Yahoo Mail, Flickr, and Tumblr — purchased during Mayer's tenure for more than $1 billion — remains to be seen.