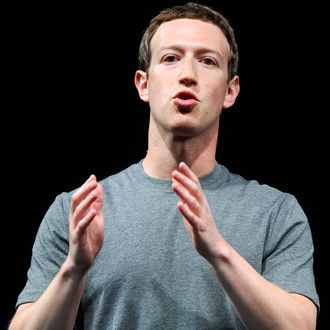 Mark Zuckerberg.
Photo: David Ramos/Getty Images
Mark Zuckerberg enjoys a good Facebook post. Whether he's letting you know how many miles he plans to run, how many books he plans to read, or how many robots he plans to build, it seems like Zuck is always posting. But if you want to block the Facebook founder and avoid his incessant posting … you can't.
As Gizmodo reports, when you attempt to block Zuckerbeg, a pop-up notification appears informing you "This profile can't be blocked for now." It also gives you the option to report a page or profile if "they're doing something that goes against Community Standards." But barring an almost excessive number of pictures of his dog, Beast, Zuckerberg isn't breaking any of those rules. Gizmodo also notes that while he's unblockable, Zuckerberg's wife, Priscilla Chan, and Facebook COO Sheryl Sandberg are not.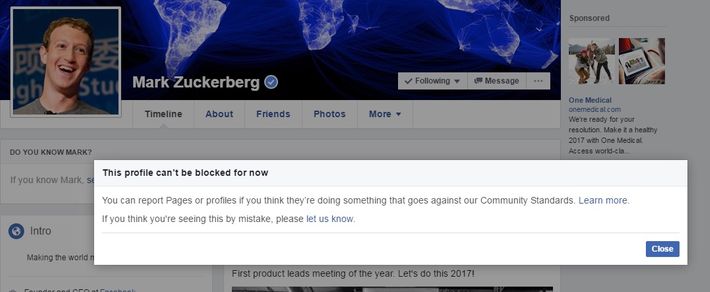 Blocking Mark, in the hypothetical, would mean he would no longer be able to see posts on your timeline, tag you in posts, chat with you, friend you, or invite you to events. We've reached out to Facebook and will update this post if we hear back. Until then, just keep ignoring all those invites Zuck keeps sending you for his improv shows. He'll get the hint eventually .