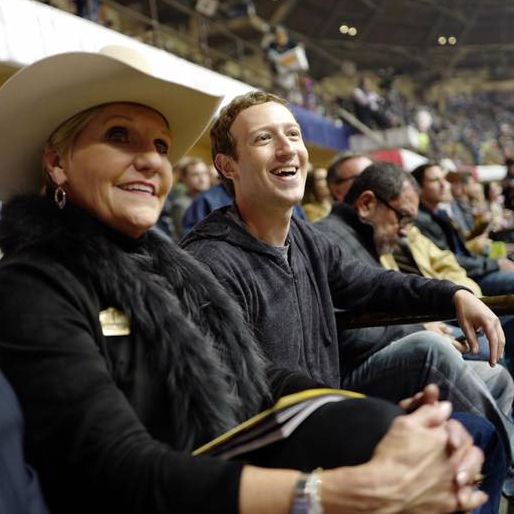 A visiting dignitary from the Bay Area samples the local culture of Fort Worth.
Photo: Mark Zuckerberg/Facebook
Mark Zuckerberg's personal challenge for 2017 — to visit and meet with people "in every state in the U.S. by the end of the year" — has the air of a diplomatic mission. After a year in which Facebook was roundly criticized from the right (for allegedly suppressing conservative "trending topics") and the left (for allowing Trump-friendly "fake news" to run rampant on his platform), its founder and CEO's tour of the 50 states is certainly more ambassadorial than past yearly challenges, like running 365 miles, or learning Mandarin.
It also has the inevitable air of a presidential campaign — maybe unsurprising, given recent rumors that Zuckerberg is quietly considering a future presidential run.
Zuck kicked off his U.S. tour on Martin Luther King Jr. Day, in the state of Texas. High-school students from the Talented and Gifted Magnet School in the Dallas neighborhood of Oak Cliff had gathered to build a garden for the local community, when a white car pulled up. Out stepped the fourth-richest person in the United States, who would spend the next three hours helping with their project.
"We're all like, 'But why Mark Zuckerberg? It's MLK Day,'" TAG student Ileana Valdez joked. "I guess the biggest surprise was how casual he was," classmate Tatyana Brown said. "He took his glove off and reached out to me and said, 'Hey, I'm Mark,' as if I didn't know. He was extremely casual and humble, and I really respected that."
The project was partially organized by Taylor Toynes, an activist/community organizer and head of the nonprofit For Oak Cliff. "I will forever respect Mark Zuckerberg for his actions today, but I must also hold him and others accountable to the fact that children are dying due to poverty and lack of healthy food," Toynes wrote on his Facebook page.
Of course, Zuckerberg's trip to Dallas wasn't just about garden-planting. In the many Facebook posts documenting his journey through the Dallas-Fort Worth area, Zuckerberg failed to mention that the reason his tour kicked off in Texas was because he was required to testify in a federal trial in Dallas. (Not that there's anything wrong with killing two birds with one stone.)
The trial concerns Facebook's acquisition of the virtual-reality company Oculus. ZeniMax, a Texas-based gaming company, claims that Oculus stole proprietary VR technology. The company is seeking $2 billion in damages — which is the amount that Facebook paid to purchase Oculus from its founder, Palmer Luckey.
After a Tuesday-morning tour of an in-construction Facebook data center in Fort Worth, Zuckerberg took the stand and, in testimony not quite as snappy as The Social Network would have you believe, swore that he is "highly confident that Oculus products are built on Oculus technology."
"It's pretty common when you announce a big deal, or do something, that all kinds of people just kind of come out of the woodwork and claim that they just own some portion of the deal," he told the court. "Like most people in the court, I've never even heard of ZeniMax before."
His errand accomplished, Zuckerberg continued his tour of the Dallas-Fort Worth metro area. Later Tuesday night, he attended the Fort Worth Stock Show and Rodeo with Fort Worth mayor Betsy Price and Republican state representative Charlie Geren. "He had never been to a rodeo," Mayor Price told Select All. "He had never seen one so he was very interested. It was Bulls Night Out, which isn't our traditional rodeo, but he really enjoyed it."
After "Bulls Night Out" (a variation of the rodeo focused specifically on bull-riding challenges), Zuckerberg met with the riders, asking them about what drew them to their careers. "We got him a cowboy hat," Price said. "He'd never had a cowboy hat."
Community work, a visit to a local employer, a conversation with police officers (discussing social media and police work, apparently) and an event with local politicians — it was exactly the kind of tour that would-be presidents take all the time. (Also presidential: the 12-person team writing, photographing, and maintaining Zuckerberg's personal Facebook page.) The question of course, is whether — cowboy hat or no — Facebook-blue Zuckerberg would actually have a chance in historically red Texas. Jim Schutze, who has been covering local politics and culture for the Dallas Observer since 1998 told Select All that Dallas is primed to gravitate toward throwing its support at a candidate like Zuckerberg if he were to indeed run for president.
"I never thought these words would leave my lips, but I really think Dallas is now in danger of becoming a cool city, entirely on the backs of young people who are busy building Little Brooklyns in old inner-city neighborhoods," Schutze said. "As far as I can tell, Facebook is to that culture what the Baptist Church was to the old one — the social glue, the personal reinforcement and the hymnal. But this way they can drink and dance. Whether that new Dallas would want to do what Mark Zuckerberg told it to do is a question far over my head, but I know this for sure: They would walk through fire to go hear him talk."
"He's very innovative and can be very, very flexible," Fort Worth's mayor said, "and he seems to like the Texas culture a lot." On Wednesday, Zuck drove from Fort Worth to Waco, meeting with community leaders in Waxahachie along the way. "In many ways, I still don't have a clear sense of Texas," he wrote on Facebook. "I'll remember this experience for a very long time."