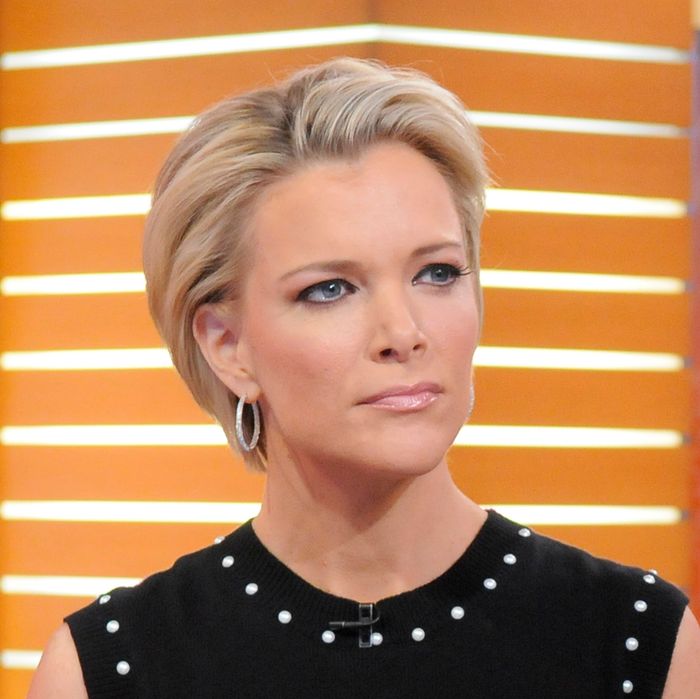 Look for her during the day on NBC.
Photo: Lorenzo Bevilaqua/2016 American Broadcasting Companies, Inc.
Megyn Kelly's decision to jump from Fox News to NBC resolves one of the last unanswered questions of the Roger Ailes scandal: Would she stay or would she go when her contract ended? With her last show set to air on Friday, Kelly's departure raises a new series of questions about how transferrable her talents are and where Fox News is headed now that the network has lost its biggest star and one of its few hosts with serious mainstream credibility.
For Kelly, the jump from a primetime perch at Fox to a multifaceted role at NBC carries a high degree of risk. She'll be giving up the most loyal audience in cable news for new set of platforms that she'll have to largely build herself. At NBC, Kelly will anchor an Oprah-like daytime show, launch a new Sunday night news magazine, and contribute to the network's political coverage. The track record for talented anchors launching daytime programs hasn't been good (see: Katie Couric, Meredith Vieira, Anderson Cooper), and no Fox News star has successfully crossed over to the mainstream before. But Kelly's prodigious talents as a broadcaster, not to mention her canny media instincts, could help her defy the trend.
Sources close to Kelly told me today that her departure is an indication of just how unhappy she had become at Fox in the wake of her high-profile feud with Donald Trump and revelations she had accused Ailes of sexual harassment. Her relationships with Bill O'Reilly and Sean Hannity in particular had completely broken down, one Fox host told me. "Bill hated her," the host said. As Kelly's contract negotiations dragged on during her much-publicized book tour, things also grew strained with Rupert Murdoch, two sources said. One Fox insider told me Murdoch balked when Kelly asked for $25 million late in the talks. (A person close to Kelly disputed this, saying that said Kelly never asked for a specific dollar amount but that Fox had offered $25 million.)
Inside Fox News, staffers are speculating over who will replace Kelly. According to insiders I spoke with today, the consensus seems to be that the Murdochs will choose a woman to fill her 9 p.m. time slot. The leading internal contenders include Trish Regan, Shannon Bream, Sandra Smith, and Martha MacCallum. Two sources said Kimberly Guilfoyle is lobbying for the job.
The one thing Fox insiders are in agreement on is that whoever replaces Kelly will be a pro-Trump conservative. In the wake of Ailes's ouster, some media observers speculated that 21st Century Fox CEO James Murdoch wanted to reposition Fox to the center, bringing it more in line with his moderate political views. But the selection of a pro-Trump host to fill Kelly's slot would suggest that Fox is instead doubling down on its right-wing politics and planning to align itself with the new administration. After initially being hostile to Trump, Murdoch has made moves to curry favor with the president-elect. Fox insiders told me that Murdoch personally named pro-Trump anchor Tucker Carlson to replace Greta Van Susteren at 7 p.m.
Murdoch's relationship with Trump has greatly improved since the depths of Trump's battle with Kelly last year. "I really like Rupert Murdoch!" Trump told guests at Mar-a-Lago over the holidays, according to an attendee. "Roger Ailes was a friend of mine, but Fox's coverage is so much better since he left."
If Fox News' politics ultimately solidify as more pro-Trump than they were during the campaign, that might be to the benefit of Murdoch's business interests. According to a well-placed source, Trump has asked Murdoch to submit names for FCC Chairman. Murdoch, another source said, also wants conditions put on the AT&T-Time Warner merger, and he could lobby Trump to make that happen.
That Murdoch might choose to align his news network with Trump shouldn't come as a surprise. Throughout his career, Murdoch has tended to support the officeholder in power, whether it was Margaret Thatcher, Tony Blair, or George W. Bush. He even flirted with endorsing Barack Obama in '08, but at the time backed off when Ailes complained.