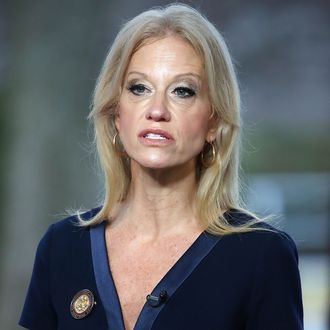 Kellyanne Conway.
Photo: Mark Wilson/Getty Images
During an interview on Meet the Press, Kellyanne Conway told Chuck Todd that Trump's false statements regarding "a million, a million and a half people" attending his inauguration were "alternative facts." Official estimates put the crowd count for the event at about a third of the 1.8 million people who attended Obama's 2009 inauguration, which is nowhere near Trump's untrue claims of over a million people watching him get sworn in. There's no such thing as "alternative facts." Just the truth and, well, not the truth. (Some might call this a lie, though Chuck Todd clung tight to the word "falsehood.")
Following the interview, Merriam-Webster noticed a spike in searches for the definition of "facts." Which they kindly provided via one shady tweet.