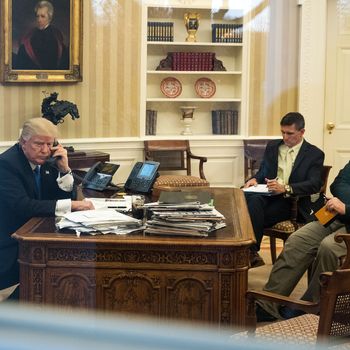 "Sit there and think about what you've done."
Photo: Drew Angerer/Getty Images
In a lot of ways, Donald Trump's national security adviser, Mike Flynn, seems more like the president than most of his appointees. But the qualities that Flynn shares with Trump — a flair for provocation, an inability to shut up, a weird kid who shares his name — are reportedly causing a rift in their relationship.
Less than two weeks into the Trump presidency, Flynn has "gotten on the nerves" of the president and others in his administration, according to the New York Times. Why? Flynn's "overbearing," he talks "too much," and he presided "over a chaotic and opaque N.S.C. transition process," the Times says. Flynn also likes to push the boundaries of what's typically thought acceptable in D.C. Trump liked that when Flynn was chanting "lock her up" and calling Islam a "cancer," but those antics have apparently become less amusing over time. Recently, for example, Flynn had to be talked out of going to DeploraBall, a Trump inauguration event where the "Sieg heil!" had to be explicitly banned, because at those kind of things you never know.
But more than Flynn's grating personality, it was his conspiracy-peddling son, who had to be fired from the Trump transition in December, that annoyed Trump most, the Times says. Speaking of the Michael Flynn Jr., on Sunday he tweeted a message in support of what he called Trump's "#MuslimBan." Also Sunday, Trump said his executive order barring entry to the U.S. for some immigrants is not a Muslim ban. Later, the younger Flynn deleted his Twitter account.