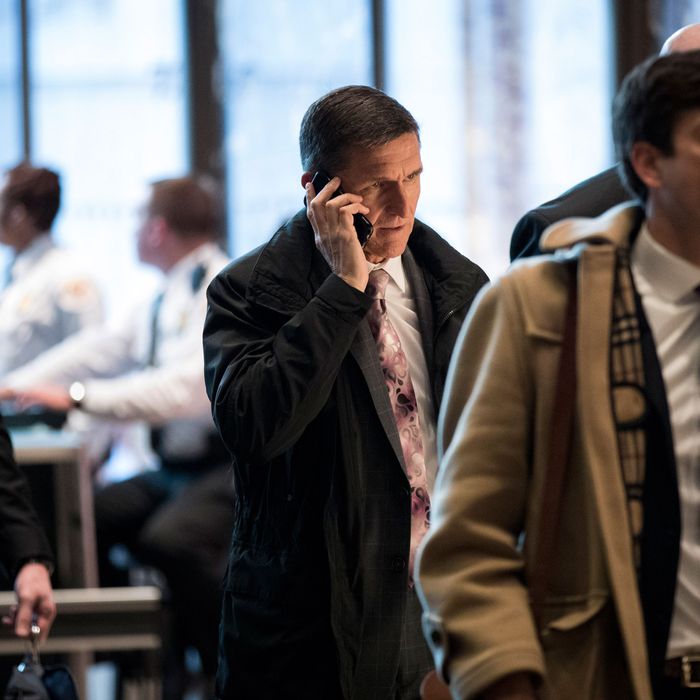 Privet?
Photo: Drew Angerer/Getty Images
On the same day that President Obama expelled 35 Russian diplomats from the U.S. and imposed other sanctions in retaliation for the Kremlin's alleged attempts to influence the presidential election, Donald Trump's incoming national security adviser, Lieutenant General Michael Flynn, spoke on the phone several times to Russia's ambassador to the U.S, Washington Post columnist David Ignatius reports.
What's unclear is why. Incoming Press Secretary Sean Spicer said Friday that the call was placed to set up a post-inauguration phone call between Trump and Russian President Vladimir Putin. But as Ignatius writes, contact between Flynn and ambassador Sergey Kislyak could constitute a violation of the Logan Act, a 1799 statute that bars citizens of the United States from attempting to influence a foreign government that is engaged in "disputes or controversies with the United States." Not that it's likely Flynn would be charged. There has been a grand total of one indictment under the Logan Act, and it was in 1803.
The unlikelihood of a Logan Act violation aside, Flynn's reported phone calls will do little to dispel worry about his, and Trump's, relationship with Russia. Flynn has been accused of cozying up to the Kremlin and once gave a paid speech at a gala thrown for state-run news network RT. After he spoke, Flynn shared a dinner table with Putin. He went on to make regular appearances on the Russian government-propaganda network, where he argued for a closer working relationship between D.C. and Moscow to destroy ISIS.
Flynn argues that he simply thinks Russia is a good ally in the fight against a common enemy. But not everyone sees it that way. As Adam Schiff, the top Democrat on the House Intelligence Committee, said in November, "Some of the policy positions he's advocated, a kind of a newfound affinity for the Russians and Kremlin, concern me a great deal."