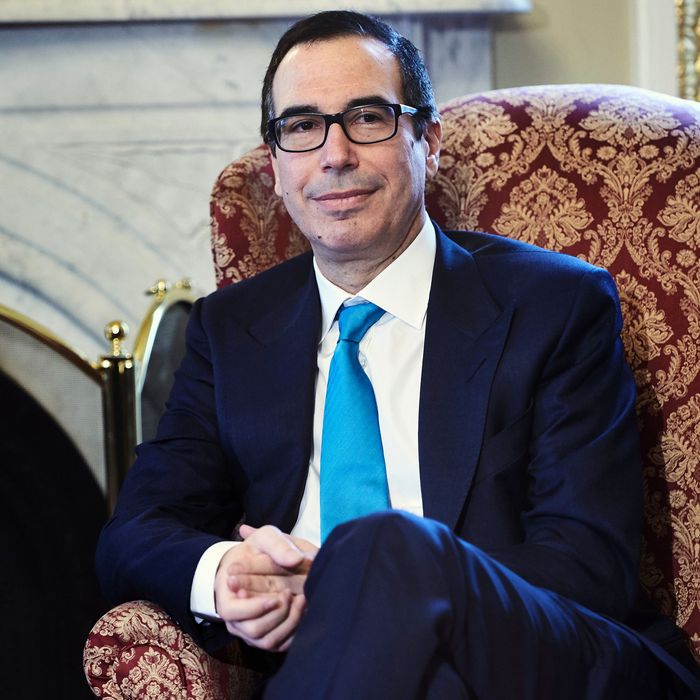 A man preparing to drain a swamp.
Photo: Brendan Smialowski/AFP/Getty Images
It was never going to be easy to sell Steve Mnuchin as a populist choice for Treasury Secretary.
Born the humble son of a Yale-educated Goldman Sachs banker, Mnuchin grew up to become a Yale-educated Goldman Sachs banker. After 17 years at that firm, Trump's treasury pick left for bigger things — among them, a hedge fund named after the sand dunes outside his house in the Hamptons, a stint running a bank that specialized in foreclosures, and a key role in the Trump campaign, as the GOP candidate's chief fundraiser.
Mnuchin has publicly suggested that he took that last gig specifically because he knew that if he provided Trump with campaign cash, he would likely receive in a cabinet-level appointment, as recompense.
So, the words most likely to drain the swamp are never going to appear beneath Steve Mnuchin's picture. But as Trump has made clear, being the mega-rich son of a millionaire in no way disqualifies one from "voice of the working man" status. In fact, many voters see exorbitant wealth as a sign of incorruptibility — after all, why would a multimillionaire ever bother stealing chump change from the public till? (Estimates of Mnuchin's net worth vary, but Vanity Fair's William Cohan has pegged Trump's treasury pick as a billionaire).

But if Mnuchin's wealth isn't politically toxic, the details of how he amassed it still might be. In 2009, Mnuchin and a few of his billionaire associates bought the California bank IndyMac, which had collapsed under the weight of its reckless mortgage lending. Their purchase was made on the condition that the Federal Deposit Insurance Corporation would compensate the newly named OneWest Bank for future losses above a certain threshold.
With the risks of his investment partially socialized, Mnuchin proceeded to capitalize on the venture. Under his leadership, OneWest foreclosed on tens of thousands of homeowners and sold their houses at auction.*
Mnuchin and his partners sold OneWest for an estimated profit of $1.5 billion in 2015. Mnuchin personally garnered more than $200 million from the sale, according to Bloomberg News.
But hey: Profiting from the financial misfortune of others isn't illegal — it's practically the American dream! And when borrowers can't make their mortgage payments, banks have no choice but to foreclose on their properties. Don't hate the banker, hate the game (which Trump will de-rig, the first chance he gets). If no laws were broken, Elizabeth Warren must stop crowin'.
But this line of defense took a hit Tuesday, when the Intercept obtained a memo from the California attorney general's office, which suggests that OneWest repeatedly violated state laws amid its frenzy of foreclosures.
The memo — which was drafted by the California AG's Consumer Law Section, following a yearlong investigation — alleges that OneWest was guilty of "widespread" acts of misconduct, including illegally backdating documents to expedite the foreclosure process and, essentially, gaming foreclosure auctions.
These and related actions harmed homeowners by "denying them timely and important information about their foreclosures and potentially shortening the amount of time they had available to find a way to become current on their mortgage obligations," the memo claims.

The memo also alleges that OneWest obstructed the investigation itself, by ordering third parties to ignore state subpoenas.
The investigators recommended that then–Attorney General — and current Democratic senator — Kamala Harris file a civil-enforcement action against Mnuchin's bank, with the aim of securing injunctive relief and collecting millions in financial penalties.
But Harris declined to pursue the case without offering an explanation of her reasoning, according to the Intercept.
"This memo is meritless," Mnuchin spokesman Barney Keller told CNBC.com. "OneWest was the only bank in the country to complete the grueling independent foreclosure review by the OCC and received the top rating from government regulators for compliance. Steven Mnuchin and OneWest managed to issue over 100,000 loan modifications including thousands that reduced borrower principal, on loans that he did not even originate. Memos like this belong in the garbage, not the news."
Notably, OneWest has admitted to mishandling documents in the past. In a deposition from July 2009, one of the company's vice-presidents confessed to "robo-signing" 6,000 foreclosure-related documents per week, a pace that would have made it impossible for her to verify the accuracy of all relevant information in each case. The company's affinity for cutting corners in the foreclosure process forced it into a consent order with (the now defunct) federal Office of Thrift Supervision in 2011.
All this is sure to come up at Mnuchin's impending confirmation hearings. Which could prove a trifle awkward for one of the Senate's newest Democratic members — the more Kamala Harris's caucus mates make hay over Mnuchin's tenure at OneWest, the more scrutiny her decision not to bring an enforcement action against the bank may receive.
As the Intercept's David Dayen notes, there are plenty of sound reasons for Harris to have made that choice — the memo, itself, concedes that "[w]e face a higher than average risk that the court may choose to award minimal amounts of restitution and/or penalties," since OneWest could argue that homeowners were not harmed by process violations, as they would have defaulted on their mortgages, regardless. California courts have proven themselves amenable to this argument.
However, those inclined to distrust Harris's motives can find fuel for their suspicions in her FEC records. Per Dayen:
Harris's prodigious fundraising also raises questions about how attentive she is to the needs of campaign contributors. Prior to signing on with Trump, Mnuchin donated to members of both parties. He gave $2,000 to Harris' Senate campaign in February 2016. Among the investors in OneWest Bank was major Democratic donor George Soros, who maxed out to Harris' campaign in 2015.
Regardless, Democrats are poised to treat Mnuchin as a testament to Trump's true feelings about working people.
"After years peddling the kind of dangerous mortgage-backed securities that eventually blew up the economy, Mnuchin swooped in after the crash to take a second bite out of families by aggressively — and sometimes illegally — foreclosing on their homes," Elizabeth Warren seethed in a statement last month.
It's unlikely that another viral video of Warren dressing down a plutocrat will do much to change the hearts and minds of Trump's working-class supporters.
Except, perhaps, those whom Mnuchin foreclosed on.
"It has to get out why this man should not be put in charge of Treasury," Teena Colebrook, a (regretful) Trump voter who claims that OneWest deployed illegal tactics when it foreclosed on her, told the Intercept. "Nobody minds a billionaire, but not one feeding off people's misery."
*Correction: This story originally included details about a foreclosure against a 90-year-old woman in Florida, as reported by Politico. It now appears that that story is inaccurate, and mention of it has been cut.