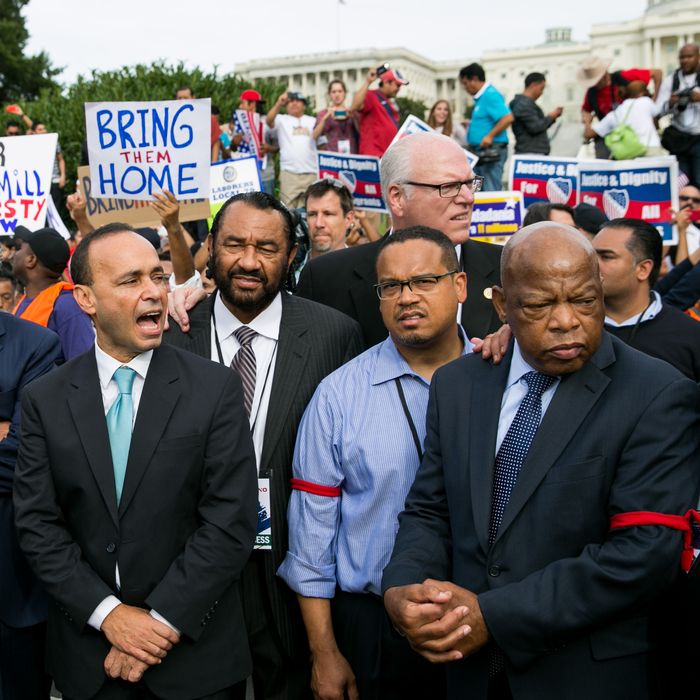 Don't expect to see Luis Gutierrez, Keith Ellison, or John Lewis on Friday.
Photo: Drew Angerer/Getty Images
The number of Democratic lawmakers refusing to attend Donald Trump's inauguration keeps climbing, with 53 House Democrats now planning to boycott Friday's ceremony, according to the Washington Post.
It's uncommon for lawmakers to boycott the inauguration for political purposes, but a day earlier about two dozen Democrats said they would not attend. Many said the final straw was Trump's feud with Representative John Lewis over the holiday weekend. Lewis said he does not consider Trump a "legitimate president" because he believes the Russians helped get him elected, prompting the president-elect to attack the civil-rights icon on Twitter.
The Post has the full list of lawmakers skipping the event (including some who claim they just happen to be busy on January 20). Here are some of the latest additions:
Trump might have done little to stem the protest, refusing to drop the issue and attacking Representative Lewis again on Twitter Tuesday. This time, the president-elect challenged the civil-rights leader on his statement that Trump's inauguration would be the first he missed since joining Congress in 1987.
But, on this, Trump is right. Lewis did skip George W. Bush's inauguration in 2001, telling the Washington Post at the time that he planned to stay in Atlanta because he did not believe "Bush is the true elected president." Lewis's office acknowledged that the congressman missed Bush's swearing-in. "His absence at that time was also a form of dissent," spokeswoman Brenda Jones told USA Today. "He did not believe the outcome of that election, including the controversies around the results in Florida and the unprecedented intervention of the U.S. Supreme Court, reflected a free, fair and open democratic process."
Outside of Twitter, the Trump transition team spun the boycott into an opportunity for some to get a premium-seat upgrade. "Obviously we'd love for every member of Congress to attend," future White House Press Secretary Sean Spicer said, "But if they don't, that's some great seats that other folks can hopefully partake in."
"It's a shame that these folks don't want to be part of the peaceful transfer of power," Spider added, "but it's within their right." He maintained that enthusiasm for the inauguration remained high, and there would be plenty of crowds, regardless of the protest.
The celebration some Democrats are now missing out on appears to be far more low-key than expected. While Trump himself said there was once talk of a parade up Fifth Avenue or a helicopter ride from New York to D.C., Boris Epshteyn, communications director for the Presidential Inaugural Committee, tells the Post that the event will be "workmanlike." While some inaugural parades have taken more than four hours, Trump is expected to spend just 90 minutes walking down Pennsylvania Avenue. The only announced performers are the Mormon Tabernacle Choir, the Radio City Rockettes, and singer Jackie Evancho.
While the last three presidents attended eight or more balls on the night they were inaugurated, Trump is expected to appear at just three. "This is not a coronation," Epshteyn said. "And you've seen some inaugurals in the past that maybe did seem like a coronation. Again, it's every president's choice. This president wants to get to work."
But Trump's inauguration may not be as Spartan as Epshteyn suggests. The inaugural committee has raised more than $90 million for the celebrations, while Obama brought in $53 million in 2009. Seven-figure donors will reportedly receive tickets to a "candlelight dinner" featuring "special appearances" by the new First Family. The committee has also ordered customized thermal blankets that will be distributed to those on the dais (though it's expected to be in the 50s on Friday).
Otherwise, it's unclear where the money is going. "With a pared-down inaugural, I don't know what they could possibly use $90 million on," Steve Kerrigan, a top organizer for both of Obama's inaugurations, told the Post.
Trump may find some way to burn off the extra money over the weekend. Sure he wants to "get to work," but who does business on Saturday and Sunday?