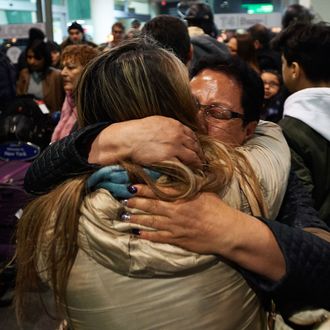 JFK over the weekend.
Photo: James Keivom/NY Daily News via Getty Images
President Donald Trump's controversial executive order suspended the United States' refugee program for 120 days, and barred Syrian refugees indefinitely. But on Tuesday, officials said 872 refugees who had undergone the rigorous screening process under the previous administration would be granted entry.
These refugees, who were considered "in transit," will be granted waivers by the Department of Homeland Security and the State Department, and should arrive in the U.S. this week. Without these exemptions, these individuals and families would face "undue hardship," said acting commissioner of U.S. Customs and Border Protection Kevin McAleenan.
It's unclear the origin countries of these refugees, or whether additional waivers will be granted. This somewhat hopeful announcement comes after protests broke out at airports across the country during the chaotic and disjointed implementation of Trump's measure, which — in addition to its refugee policy — temporarily prevents citizens from seven predominately Muslim countries from coming to the United States.