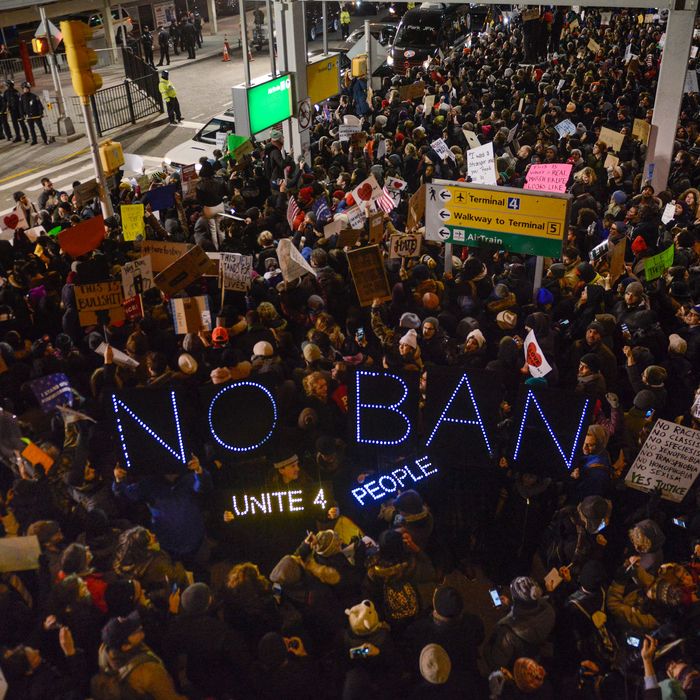 Protestors rally during a demonstration against the immigration ban for seven Muslim-majority countries at John F. Kennedy International Airport on January 28, 2017, in New York City.
Photo: Stephanie Keith/Getty Images
President Donald Trump's executive order to temporarily ban citizens or refugees arriving from seven predominantly Muslim countries sparked chaos at airports across the United States. Protests broke out at air terminals, and arrivals were detained for hours, including for green-card holders, though the White House later walked back its restrictions on legal permanent residents. Federal judges in New York, Massachusetts, and other regions also issued temporary and emergency stays on the ban.
According to Governor Andrew Cuomo's office, at least six people were still being held at JFK Airport as of late Sunday night, of the approximately 50 people who were initially barred from entering the country when the order went into effect. Early reports suggest that one person still remained in custody as of Monday morning, and at least two people had been deported back to their home countries of Iran and Sudan.
Still, given the confusion of the rollout there's still some doubt about the total number of detainees. A volunteer attorney told WCBS 2 that Customs and Border Patrol were not fully complying with judges' orders to turn over the names of those being kept.
"There's no transparency to the process," New York attorney general Eric Schneiderman said on CBS This Morning, who, along with 16 other attorneys general, is planning to challenge the orders.
Dozens detained in JFK have now been released but after spending hours — sometimes more than a day — trapped in limbo in the terminals. Among them: a SUNY doctoral student from Iran; a 76-year-old Sudanese who had been held for more than 30 hours; a father and son from Iran who were reportedly told they could be deported back to Iran and barred U.S. entry for five years, or face indefinite detention, until they were released 33 hours later; and an elderly Iraqi woman, detained for 36 hours and finally released Sunday night. Her son, an active-duty soldier in the U.S. Army, flew up from South Carolina when his mom was stopped. He, too, ended up waiting more than 30 hours in the airport.