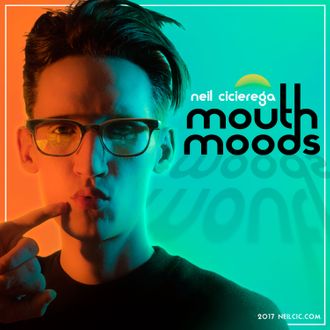 In April of 2014, musician and comedian Neil Cicierega changed the internet-mashup landscape with his seminal mixtape, Mouth Sounds. The hour-long sonic journey combined memescape anthems like Smash Mouth's "All Star" and "Smooth" by Santana (feat. Rob Thomas) with popular mainstream tracks from across the musical spectrum, along with a healthy sprinkling of Austin Powers sound bites. It was a smash hit, surprisingly danceable despite using some of the lamest music as its springboard.
A few months later, in July, Cicierega released Mouth Silence, which he described as a prequel. Mouth Silence functioned, to my mind, like a bizarro version of Mouth Sounds, mashups that fit together in a way that were viscerally uncomfortable instead of fun to listen to in the usual sense.
And then, nothing. Until last night. It has been two and half years since Mouth Silence, and now we have Mouth Moods, a mixtape that is, for lack of a better descriptor, crazy-good. I started listening to it late last night and by the end had yelled "oh fuck off!" directly at my stereo at least once. At every point, it will zig when you expect it to zag.
It is a shame that David Bowie died before he could hear the vocals to "All Star" laid over the instrumentals of "Under Pressure." Against all odds, I mean that. I won't say any more because I don't want to ruin all of the surprises encased in this gem. Once you've listened, you can find a running list of all of the samples on Wikipedia.
You can listen to Mouth Sounds and Mouth Silence below.