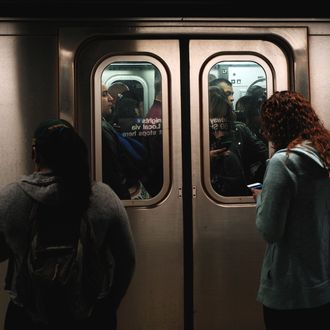 Photo: Jewel Samad/AFP/Getty Images
The MTA psyched New York out, and in a bit of a surprise move, opted against raising the base fare. It will remain at the current rate of $2.75.
That does not mean the straphangers escape hikes altogether. The MTA had been considering two proposals — one to raise the base fare from $2.75 to $3, and the other to keep it at the same level, but reduce the bonus commuters get when they add at least $5.50 to a MetroCard. Last week, it appeared the MTA was leaning toward the former, but ultimately the agency came out against that plan because it tends to put low-income and disabled riders at a greater disadvantage. Which means the board decided to go with that second option, which shrinks the bonus from 11 percent to 5 percent. So, for those who just load money as they go, a ride will now cost $2.62 per trip instead of the current rate of $2.48.
Also, riders who use those 30-day passes will still see the price increase $4.50, to $121. A seven-day pass will also cost an extra buck at $32. All fare increases — the last of the Prendergast era — will go live March 19.