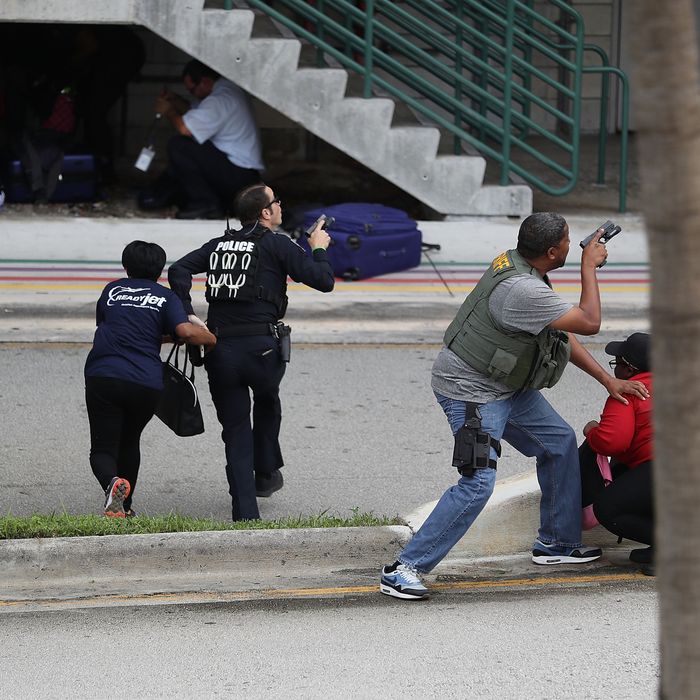 Police assist people seeking cover outside Terminal 2 of Fort Lauderdale–Hollywood International airport after a shooting took place near the baggage claim on January 6, 2017.
Photo: Joe Raedle/Getty Images
At least five people have been killed and eight people injured after a gunman, reportedly armed with a weapon he had carried in his checked luggage, opened fire Friday at Fort Lauderdale–Hollywood International Airport in Florida.
The suspect, who was taken into custody at the scene, had a military ID on his person that identified him as 26-year-old Esteban Santiago.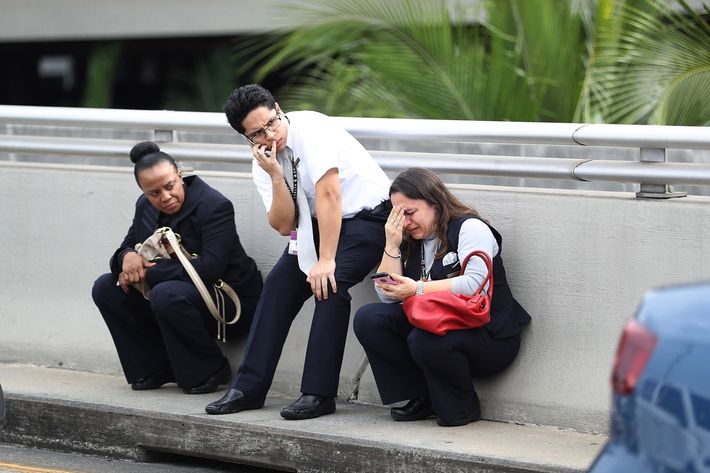 Later this afternoon, the TSA warned of another active shooter elsewhere on the premises, not even two hours after the initial shooting reports. The Broward County Sheriff's Office confirmed later that those reports were false. "Someone that was leaving the airport in the parking garage thought they heard something that sounded like gunshots," said Broward County Mayor Barbara Sharief. "Out of an abundance of caution, they thought we should evacuate the area." Authorities said they believe the suspect acted alone. His motive for the attack is unknown.
Santiago opened fire shortly before 1 p.m. in the lower baggage claim of the airport's Terminal 2. The gunman was reportedly an airplane passenger who arrived in Fort Lauderdale on a flight from Anchorage, Alaska, with a connection in Minneapolis. He reportedly landed shortly after noon, and had a gun in a checked bag, which is allowed under TSA rules. Authorities believe Santiago retrieved his luggage from the baggage claim, went to the restroom, and loaded his gun there before attacking.
Santiago wore a Star Wars T-shirt as he sprayed bullets into the crowd, witnesses said. According to NBC News, Santiago is originally from New Jersey, but had most recently lived in Anchorage. His aunt, living in Union City, New Jersey, told the New Jersey Advance that her nephew served in Iraq, where he "lost his mind," but had been improving in Alaska, where he had a newborn son and worked as a security guard. Details on his military service are not entirely clear, but he appears to have been discharged honorably from the National Guard last year, reports the Daily Beast.
Investigators are interviewing Santiago now, and so far, it does not appear that he was motivated by Islamic terrorism. The Washington Post reports that mental illness may have been a factor:
According to federal law enforcement officials, he visited an FBI office in Anchorage late last year, an encounter that prompted authorities to believe he may have mental health issues.

Santiago went to the FBI office to report something and was expressing some incoherent thoughts, officials said. When he was interviewed by agents, he said he thought the federal government was after him and trying to control him, according to officials recounting the visit. The FBI then contacted local authorities to have him undergo a mental health check, but the officials were not sure what happened after that.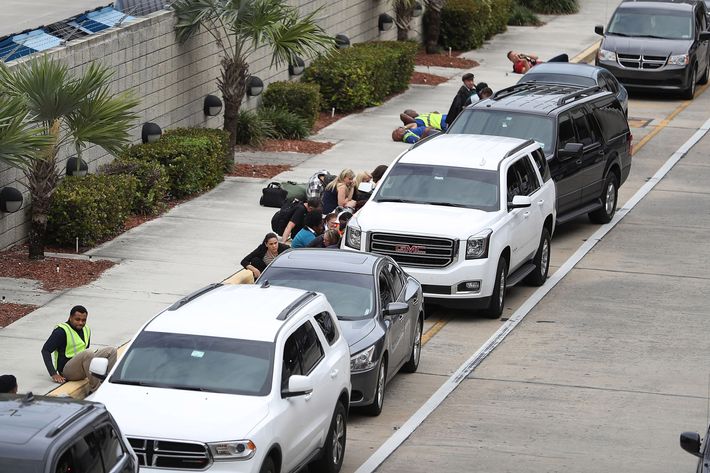 Parts of the airport were evacuated after the first shots were fired. People flooding the tarmacs, and those near Terminal 2 ran and took cover as gunfire — which sounded like "firecrackers," one witness said — rang out.
The airport is shut down, and flights into and out of Fort Lauderdale have temporarily been suspended.
Local media outlets captured people still waiting on the tarmac or near the parking lot in the aftermath of a chaotic and confusing scene.
Ari Fleischer, the former White House press secretary under George W. Bush, was at the airport and was one of the first to publicly report the shooting on Twitter. He added later that the situation had calmed down:
This is a breaking-news report, and will be updated as more information becomes available.