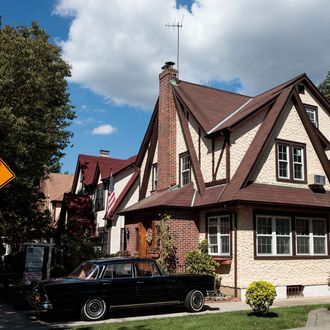 Who wants it?
Photo: Drew Angerer/Getty Images
Someone is about to be the proud new owner of the house where Donald Trump lived until he was 4 years old. The residence in Jamaica Estates, Queens, went up for auction Tuesday, just days before its former resident gets sworn in as president.
The house got "multiple bids," according to what Paramount Realty told DNAinfo. The agency would not spill the beans on whom those bidders were, or how much they were willing to fork over for a legitimate possible future landmark, but its current owner — real-estate mogul Michael Davis — has a few days to mull over the offers.
The five-bedroom home went on the market for $1.65 million in July, back when Trump was just a candidate trailing in the polls. The sellers scheduled an auction in October, but pushed it back, hoping to cash in if Trump won. In December, Davis, who according to the New York Post, bought the property sight unseen for $1.39 million, decided to flip the house, and timed the new auction with the eve of the Trump presidency, but before he actually has the nuclear codes in hand.