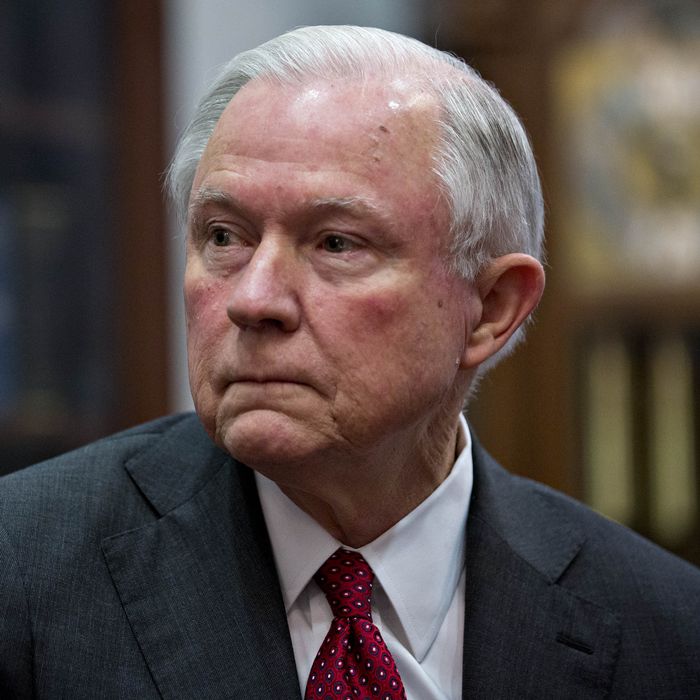 Senator Jeff Sessions.
Photo: Andrew Harrer/Bloomberg via Getty Images
As opposition to Senator Jeff Sessions' nomination to serve as Donald Trump's attorney general grew louder on Tuesday, six people were arrested following an eight-hour sit-in organized by the NAACP at the senator's Mobile, Alabama, office.
The protest began around 11 a.m., when nearly two dozen activists occupied Sessions's office, accusing the senator of being "hostile" to the Voting Rights Act and other civil rights issues. The demonstration was part of a larger action by the Alabama NAACP, which held press conferences opposing Sessions at his other district offices on Tuesday. Demonstrators in Mobile vowed to remain in the office until the senator's nomination was pulled or they were arrested.
"We are asking the senator to withdraw his name for consideration as attorney general or for the President-elect, Donald Trump, to withdraw the nomination," Cornell William Brooks, the national president of the NAACP, said during the sit-in. "In the midst of rampant voter suppression, this nominee has failed to acknowledge the reality of voter suppression while pretending to believe in the myth of voter fraud."
The demonstrators asked to speak with Sessions, but according to USA Today they were told he was unavailable. They were also unable to speak with his D.C. policy staff. Updates on the protest were posted on social media, and many offered messages of support.
The protest ended around 6:30 p.m. local time when the group refused to leave as the office closed for the day. A Facebook Live broadcast showed the arrests of five men and one woman, including Brooks and Alabama NAACP President Benard Simelton. The six were taken into custody peacefully, with Brooks shaking hands with the officers who arrived on the scene. "We all are aware of the laws of trespass. We are engaging in a voluntary act of civil disobedience," Brooks told the police.
The demonstrators were allowed to kneel and pray before they were handcuffed and led to a police van. They were charged with misdemeanor criminal trespass and released on bond, according to the AP.
Simelton said everyone was "very polite and hospitable" during the sit-in, and Sessions even sent them pizza for lunch. But Sarah Isgur Flores, spokeswoman for Sessions's confirmation, issued a statement strongly denying the accusations of racism that have dogged the senator throughout his career.
"Jeff Sessions has dedicated his career to upholding the rule of law, ensuring public safety and prosecuting government corruption," Isgur Flores said in the statement. "Many African-American leaders who've known him for decades attest to this and have welcomed his nomination to be the next attorney general." The statement included a list of black lawyers and officials who have endorsed Sessions for attorney general.
The U.S. Senate rejected Sessions's nomination for a federal judgeship in 1986 after several former colleagues accused him of making racist remarks while serving as U.S. attorney in Mobile. They claimed he called a black prosecutor "boy," agreed with a description of a white civil-rights lawyer as a "traitor to his race," called the NAACP "un-American," and joked that he thought the Ku Klux Klan "was okay until I found out they smoked pot." Sessions acknowledged making some of the remarks, but said many were taken out of context.
During the sit-in, Simelton said civil-rights advocates aren't opposed to Sessions's nomination merely owing to a handful of racist remarks he may have made several decades ago. "He has not been a champion for civil and human rights or been on the battle front fighting for civil and human rights," Simelton said. "We need someone who has a background in that and who will continue to do that."
In 1985, when he was a federal prosecutor, Sessions pursued voter-fraud charges against three activists working to register black voters, including Albert Turner, who helped lead the voting-rights march in Selma in 1965. The presiding judge threw out half of the charges for lack of evidence, and a jury quickly acquitted the "Marion Three" on the remaining charges.
On Tuesday, Deval Patrick, the former Democratic governor of Massachusetts, sent a letter to the Senate Judiciary Committee opposing Sessions's confirmation over his handling of the 1985 case. Patrick was part of the NAACP Legal Defense Fund team that represented the Marion Three, and he said Sessions should not have prosecuted the activists for trying to help voters, many of whom were poor, illiterate, or elderly.
"Pursuing that case was an act of extraordinary quasi-judicial activism," wrote Patrick. "To use prosecutorial discretion to attempt to criminalize voter assistance is wrong and should be disqualifying for any aspirant to the Nation's highest law enforcement post."
The incident was also cited in a letter to Congress from a group of more than 1,200 law-school professors from 176 law schools opposing Sessions for attorney general. "We are convinced that Jeff Sessions will not fairly enforce our nation's laws and promote justice and equality in the United States," the letter states.
Last month, news outlets and advocacy groups found Sessions omitted many records from the questionnaire he filled out for the Senate Judiciary Committee, including his failed bid for a federal judgeship.
In a Washington Post op-ed published on Tuesday, three former Justice Department civil-rights lawyers accused Sessions of exaggerating his role in four civil-rights cases, listing them on the questionnaire as significant cases he litigated "personally." They wrote:
We worked in the Justice Department's Civil Rights Division, which brought those lawsuits; we handled three of the four ourselves. We can state categorically that Sessions had no substantive involvement in any of them. He did what any U.S. attorney would have had to do: He signed his name on the complaint, and we added his name on any motions or briefs. That's it.
The attorneys concluded, "Sessions knows that his real record on race and civil rights is harmful to his chances for confirmation. So he has made up a fake one."
Sessions's confirmation hearings are scheduled for January 10 and 11, and other groups are planning protests to keep him from becoming attorney general. "We're calling on citizens of this country to not accept as fait accompli the nomination of attorney general," Brooks said on Tuesday. "It's not a political coronation, it's a democratic confirmation. We're calling on people to tweet, e-mail, show up at the senator's office and voice their opinion, wisely, thoughtfully."