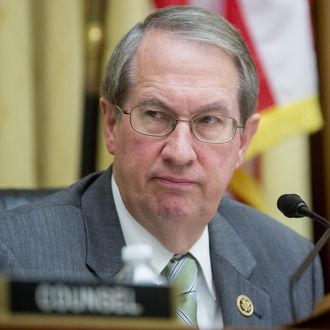 Representative Bob Goodlatte's amendment dies quickly.
Photo: Andrew Harrer/Bloomberg via Getty Images
House Republicans have now decided to leave the Office of Congressional Ethics alone, less than 24 hours after deciding to defang the independent watchdog and not even two hours after President-elect Donald Trump tweeted his disapproval of the move.
Politico reports that the House GOP called an emergency conference shortly before noon after public pressure and the president-elect's comments forced lawmakers to reconsider the surprise move to paralyze the ethics watchdog. (House GOP leadership was also opposed.) Reconsider they did, and, as of now, the Office of Congressional Ethics will remain intact. Under the now-abandoned rule-change proposed Monday, the office would have come under the control of the House Ethics Committee, which is made up of lawmakers, and would have lost its ability to accept anonymous tips, release information about investigations publicly, or refer evidence to law enforcement.
Yet the GOP's backtracking doesn't mean that the future of this ethics office is settled — it just won't be included in the vote on broader changes to House rules at the start of the session, as previously planned:
So just getting those priorities straight.