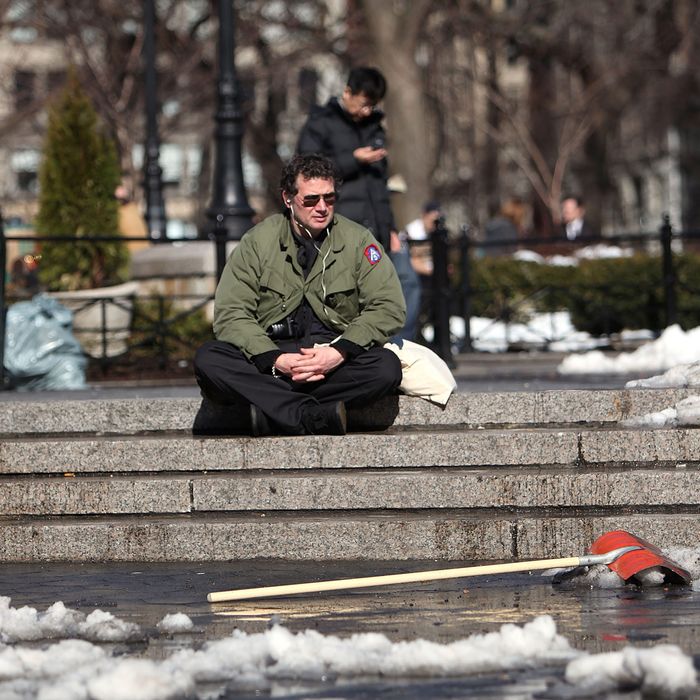 Photo: Spencer Platt/Getty Images
The sudden break in the bitter cold in New York City — it was in the 20s just two days ago — has brought kind of freaky May weather to the area, with the temperature reaching 65 degrees in Central Park this afternoon. That record high shattered the previous high, 64 degrees, set on this date way more than a century ago:
Elsewhere, the tri-state area is in the throes of this springtime spell, and records — though less long-standing ones — have been broken at JFK and La Guardia.
A few corners of the world are dealing with wacky weather. Historic storms drenched parts of Northern California and Nevada with 20 inches of rain and packed the Sierra Nevadas with nearly 12 feet of snow. Despite flooding and evacuations and the loss of a beloved tree, the downpours erased 42 percent of California's drought. That same system slammed Portland with more than a foot of snow, the heaviest daily snowfall in a decade. The unexpected storm wreaked havoc on a city that usually sees rain — though the elephants totally dug it. And Europe has been hit with an Arctic blast, bringing some of its coldest weather in years all the way to the Balkans and the Mediterranean. At least 61 people have died so far because of the frigid weather. Snow blanketed refugee camps in Greece, and the skies dropped more than a foot of snow in Istanbul.
So New York might win this round of the bizarre-weather wars. But, of course, this winter respite is a tease. Cooler air moves in overnight. By Saturday, the freezing temperatures are back and so is sleet and freezing rain, and a little bit of snow.