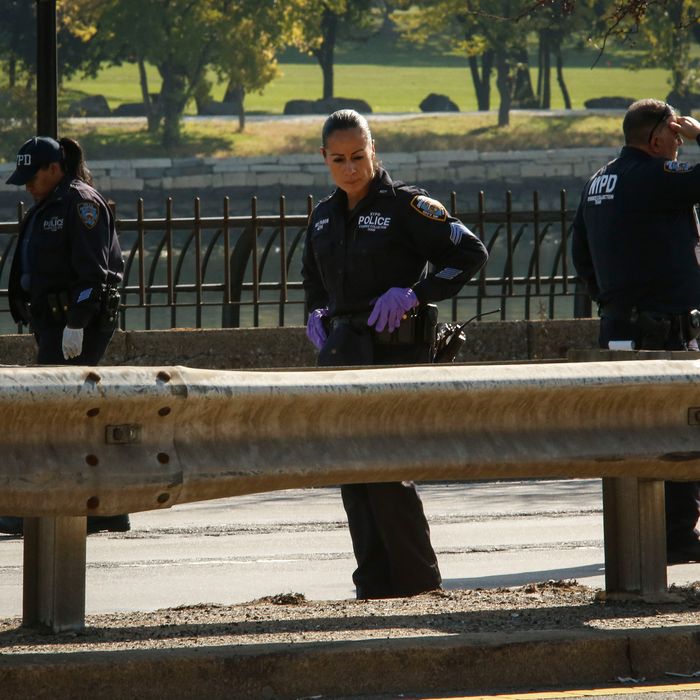 NYPD.
Photo: Kena Betancur/Getty Images
The number of shootings in New York City plummeted to 998 in 2016, the first time that rate has dipped below 1,000 since the city began tracking such incidents. That's a 12 percent decline from 2015, a standout statistic in a year that saw record low crime rates across the city.
The city's murder rate also fell from 2015 — down from 352 to 335 in 2016. (And a nick above New York's historic low, notched in 2014, of 333, and tied for second with 2013.) New York Police Department brass attribute some of decrease in violent crime to gang takedowns (the city saw its biggest bust in April 2016), and according to the New York Times, big reductions in gang-related shootings and killings helped drive the overall numbers down.
NYPD chief of crime control strategies Dermot Shea also attributed the new lows to the department's ability to better track crime patterns — linking multiple crimes to one perp, for example — which comes down to improvements in technology and good, old-fashioned police work. All together, the overall crime rate sunk 4 percent, with fewer than 102,000 major felonies — the lowest number of the CompStat era, which the NYPD began using in the early 1990s.
New York City's relatively rosy stats stand out in stark contrast to other big cities, namely Chicago. The Windy City witnessed its bloodiest year in two decades: 762 murdered, and more than 4,300 shot. The increase is staggering. The homicide rate spiked 60 percent from 2015. The number of shootings leapt by more than 1,000. The number of people killed in Chicago is greater than that of New York and Los Angeles, combined.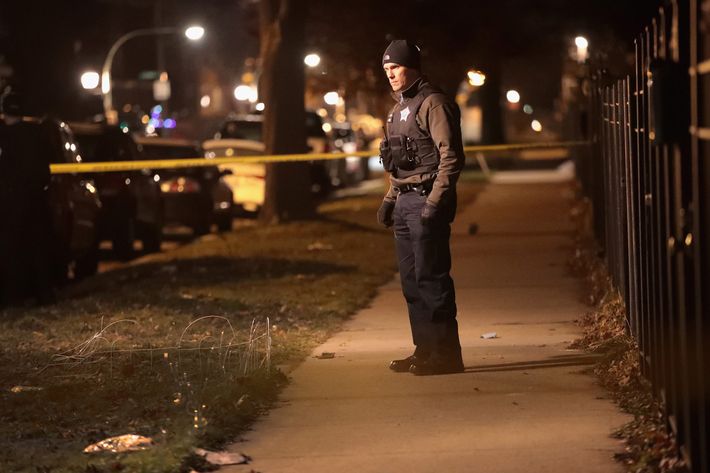 Chicago isn't the only city that logged a violent year. Los Angeles witnessed an uptick in homicides for the third year in a row; Baltimore had 318 homicides, its second deadliest year on record, beaten only by 2015. But America's third largest city has perhaps garnered the most attention, amplified by president-elect Donald Trump's tweets.
Chicago's gangs — loose, fractured cliques whose territory splits city blocks — have fueled the violence, which is concentrated on the South and West sides of the city. Chicago police superintendent Eddie Johnson, who took over an embattled police force in March, has also criticized lax gun laws and insufficient penalties for repeat offenders as hampering police's efforts to keep the body count in check. But the fatal shooting of 17-year-old Laquan McDonald, and the release of the video in November 2015, deepened the distrust between cops and community. Some critics say police are stepping back, the department plagued by dismal morale. Mayor Rahm Emanuel has promised to hire 1,000 more officers over the next year, and the city is expediting its body-camera program, to outfit all officers by 2017. Chicago will launch new community initiatives in gun-plagued neighborhoods, and expand technology, such as gunshot spotters. But whether those are real solutions to Chicago's bloodshed is an open question; six people have already been killed, and 54 people shot, not even four full days into 2017.