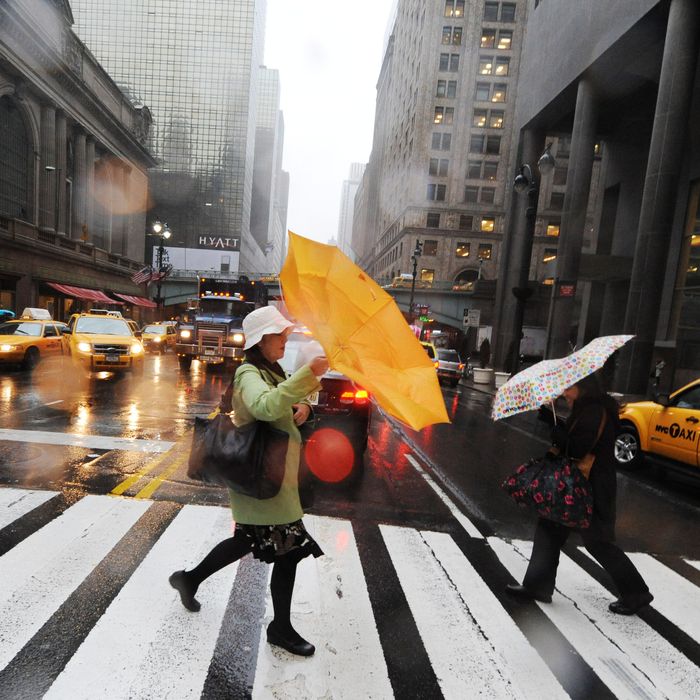 Umbrellas can't help you now.
Photo: DON EMMERT/AFP/Getty Images
A nor'easter is about to slam New York, dumping at least two inches of rain and blasting the region with wind gusts up to 60 miles per hour. What's starting out as a drizzly, gray, and blustery Monday is going to turn into something a bit more treacherous by this afternoon, with hazardous conditions stretching overnight into Tuesday. Mild temperatures will likely keep the city snow-free, but the fierce winds — the close-to-hurricane-force gusts combined with sustained winds of 30 to 40 miles per hour — will push wind chills into the 20s and low 30s, so it will feel as if it's below freezing later this afternoon.
These winds have the potential to be destructive, downing trees and causing power outages. Rains, torrential at times, will start pouring late Monday and really ramp up just in time for what's sure to be a very, very messy evening commute. Rainfall totals "approaching four inches" are possible, says the National Weather Service, especially near the shoreline. A flood watch is in effect from 1 p.m. Monday until late tonight for the five boroughs, Long Island, and parts of New Jersey and Connecticut. The brutal combo of powerful winds and high tides also means a coastal flood advisory is in place from 3 p.m. to 9 p.m., including "low-lying areas along New York Harbor and the East River."
This powerful storm is churning up the Atlantic seaboard and will drench the region through Tuesday afternoon, finally clearing out at night and leaving the tri-state area with mild (for January) temperatures and partly sunny skies. But these next 24 hours are going to be brutal, especially along the coast. This nor'easter is part of a deadly system that ravaged the south this weekend. At least 19 people have died in Mississippi and Georgia, where at least seven counties are facing states of emergency, with homes split apart, trees toppled, and widespread power outages after dozens of tornadoes ripped through the region.