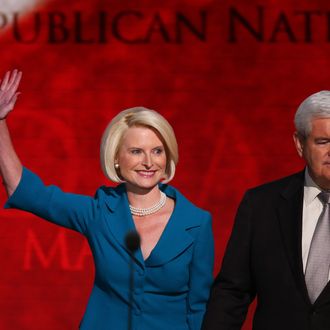 Callista Gingrich and husband.
Photo: Mark Wilson/Getty Images
Callista Gingrich is in the running to be U.S. ambassador to the Vatican, her husband and failed GOP presidential candidate Newt Gingrich told CNN.
"She's under consideration," the former House Speaker said. He added that if she wins the appointment, he won't be moving to Italy.
Both Newt and Callista Gingrich are Catholic, but she has been at it a lot longer than he has. In fact, Newt credits his conversion to Callista, who led him to the religion after they began having an affair while he was married to his second wife. The Pope is going to love that story.