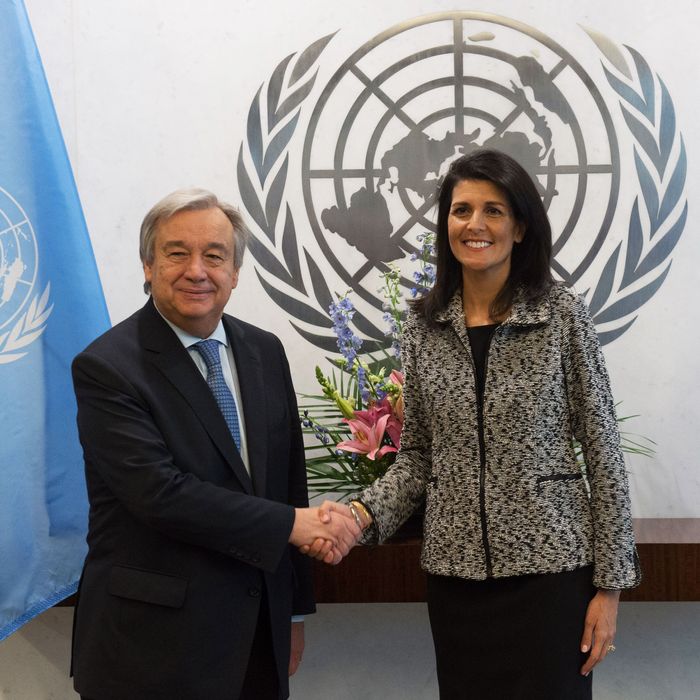 Coming for you.
Photo: Bryan R. Smith/AFP/Getty Images
Nikki Haley, the new United Nations ambassador for the Trump administration, is not here to make friends. Visiting U.N. headquarters in New York on Friday, she briefly outlined her vision for the new U.S. delegation at the U.N. and warned America's friends and international partners that, "for those who don't have our backs, we're taking names."
"Our goal with the administration is to show value at the U.N., and the way that we'll show value is to show our strength," Haley explained, "show our voice, have the backs of our allies, and make sure that our allies have our back as well. For those that don't have our back, we're taking names."
"We will make points to respond to that accordingly," she said of those allies. "But this is a time of strength. This is a time of action. This is a time of getting things done."
President Donald Trump has included the United Nations on his things-he-doesn't-like list, and signed an executive order this week to dramatically slash funding to international organizations that don't meet a strict list of criteria, the results of which could potentially decimate peacekeeping and relief missions. "This administration is prepared and ready to have me go in and look at U.N.," Haley said, "and everything that's working we're going to make it better, everything that's not working we're going to try and fix, and anything that seems to be obsolete and not necessary, we're going to do away with."
She added, "This is a time of fresh eyes, new strength, new vision, and a great day at the U.S.-U.N." No doubt everyone at that institution is thrilled by its dawning.