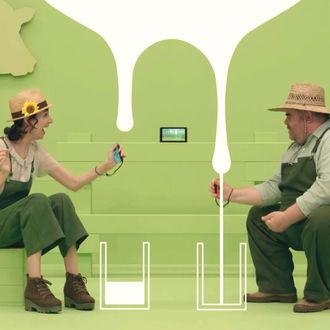 During their big Nintendo Switch launch event last night, the company showed off great-looking first-party games like The Legend of Zelda: Breath of the Wild, Super Mario Odyssey, and, uh, Arms? But all of those were nothing compared to 1-2 Switch, the minigame collection that will finally allow those of us who are not farmers to experience the sensation of milking a cow.
1-2 Switch is a minigame collection that uses the system's motion-sensing controllers in, let's say, interesting ways. Swordfighting, gun duels, eating a sandwich, and the aforementioned lactic activity.
Here's how the milk game works.
Here is how it looked in real life as the press got a chance to play it earlier this morning.
The feedback was positive(?).
Some, however, were not pleased at the quality of the simulation.
1-2 Switch, now known as That Milk Game, will be available along with the Switch console on March 3.