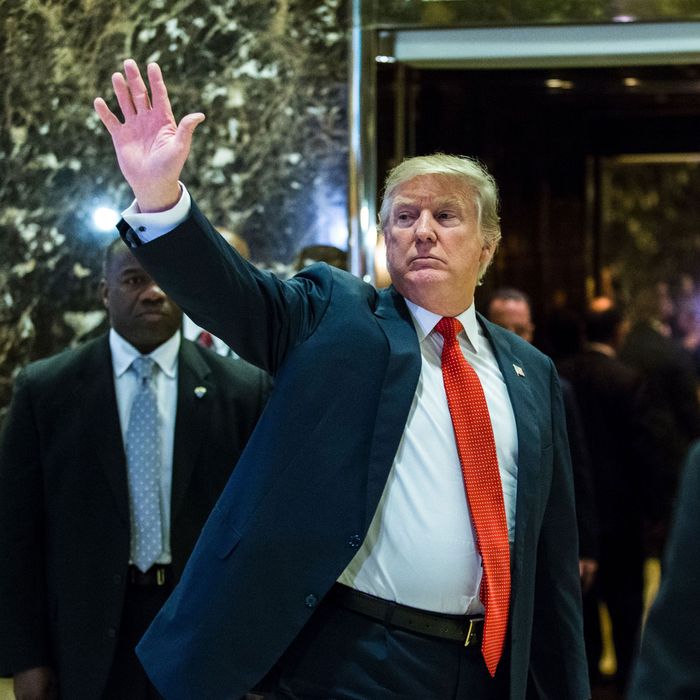 You're welcome, NYC.
Photo: Eduardo Munoz Alvarez/AFP/Getty Images
NYPD officials on Tuesday repeated the words "unprecedented" (or "unpresidented"?) and "unplanned event" to describe President-elect Donald Trump's stay in midtown Manhattan. Here's what that "unplanned event" comes out to in U.S. dollars: $37.4 million to protect Trump Tower from Election Day until the Inauguration. The bill is $500,000 for every day Trump feels like staying in his midtown high-rise instead of the White House.
Much of that figure comes from police overtime costs, which, the NYPD deputy commissioner of Management and Budget testified on Tuesday at a New York City Council meeting, would be the largest since September 11, with the exception of Hurricane Sandy. This "unplanned event" is not just a nice euphemism; the NYPD did not budget for these huge overtime expenses, which means the department could be facing increased odds of a budget gap at the end of the year if the federal government doesn't reimburse the city. (According to the Daily News, the NYPD allotted $500 million for overtime.) The city had asked the federal government for $35 million; Congress has offered $7 million.
NYPD officials said cops have been pulled from across the city to help provide coverage at Trump Tower, which means officers are also working overtime in other precincts to make up for the shortfall. The NYPD hasn't seen reductions in patrol yet — but that might happen at some point.
And there are still a lot of questions that the NYPD wasn't able to, or couldn't, answer because of security concerns, such as the costs of protecting the First Family — future First Lady Melania and the couple's young son, Barron, have said they would remain in Manhattan, even if President Trump isn't around.
The other big number to come out of Tuesday's hearing was $40 million — the estimated losses for businesses near Trump Tower after Election Day because of street closures and community tie-ups, according to an informal estimate from the Fifth Avenue Association Business Improvement District.
No one from Trump's transition team attended the hearing, though City Councilman Dan Garodnick, whose district includes Trump Tower, invited a representative to testify.