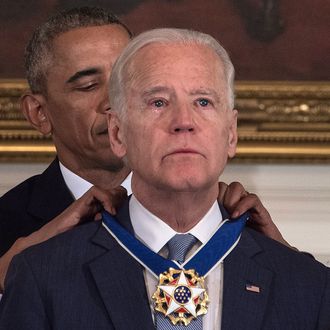 Niagara Falls.
Photo: Nicholas Kamm/AFP/Getty Images
What a bookend to the eight-year bromance: President Barack Obama surprised Vice-President Joe Biden with the Presidential Medal of Freedom on Thursday during a send-off at the White House. Obama was giving the vice-president a send-off, with a few jokes thrown in, when he paused to invite a military aide up to the podium. With that, he dropped the bombshell: "For the final time as president, I am pleased to award the nation's highest civilian honor, the Presidential Medal of Freedom."
Biden, clearly floored by the honor, could not hold back his tears:
And again:
Obama added another twist. He honored Biden by giving him the medal "with distinction," something he has never done in his presidency, and which has only been given out three other times in U.S. history: to Colin Powell, Ronald Reagan, and Pope John Paul II.
Biden took deep breaths, his eyes still welling with tears, as his citation was read and Obama slung the medal around his neck. They hugged it out.
If America had held it together until then, it was over when Biden got the podium. Grasping for words, he thanked Obama: "Mr. President, you know as long as there's breath in me, I'll be there for you. My whole family will be, and I know — I know that it is reciprocal."