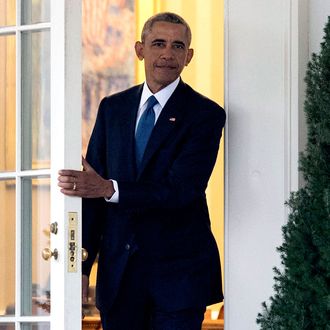 Hello, it's me.
Photo: Kevin Dietsch/Getty Images
Two days before Donald Trump was inaugurated, former president Barack Obama was asked about his plans to speak out against his successor once he returned to civilian life. Obama said he'd only do so when he felt "our core values may be at stake." Ten days into Trump's presidency, that moment has come.
On Monday, Obama released a statement cheering on the thousands of Americans protesting President Trump's executive order on immigration and its haphazard rollout. Though the statement does not mention Trump or the immigrant ban explicitly, the context is clear. The full text of the statement, released by spokesperson Kevin Lewis, who was apparently not invited to accompany the Obamas on their Virgin Islands vacation, reads:
President Obama is heartened by the level of engagement taking place in communities around the country. In his final official speech as President, he spoke about the important role of citizens and how all Americans have a responsibility to be the guardians of our democracy — not just during an election but every day.

Citizens exercising their Constitutional right to assemble, organize and have their voices heard by their elected officials is exactly what we expect to see when American values are at stake.

With regard to comparisons to President Obama's foreign policy decisions, as we've heard before, the President fundamentally disagrees with the notion of discriminating against individuals because of their faith.
This isn't the first time Obama has criticized the type of ban Trump has now instituted. In a November 2015 speech he said the idea of religious tests for refugees is "shameful." He added, "That's not American. That's not who we are. We don't have religious tests to our compassion."