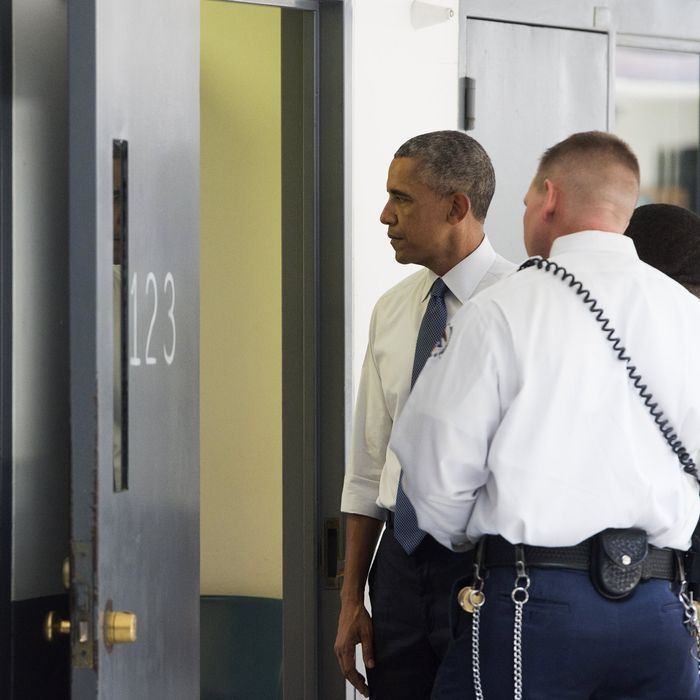 Free, at last.
Photo: Saul Loeb/AFP/Getty Images
On his final day in the Oval Office, Barack Obama commuted the sentences of 330 nonviolent drug offenders, an act of mass clemency that brought the president's total number of commutations granted to 1,715 — more than any other president in American history. Among the recipients of Obama's mercy were 568 inmates who had been condemned to life in prison.
The president's final batch of commutations came just two days after he commuted the sentence of Chelsea Manning, along with those of 208 other federal inmates.
Obama's record-breaking acts of leniency were born of his desire to mitigate the harm caused by America's uniquely punitive sentencing laws. With Congress unwilling to scale back draconian drug laws legislatively, Obama began searching for especially egregious cases to rectify via clemency back in 2014.
The bulk of those commuted under Obama's initiative were nonviolent offenders who had served at least ten years in prison, and developed reputations for good behavior over the course of their incarceration.
"The ones who really stuck home for the president and me are the ones who got their GED," Neil Eggleston, Obama's White House counsel, told the Chicago Tribune. "They worked, they took courses in anger management, they took courses in getting over drug-abuse issues, they remained in contact with their families."
The vast majority of those who sought clemency from the president failed to (sufficiently) impress him with their diligence. As of January 3, the Obama administration had denied 14,485 commutation petitions and 1,629 pardons, according to the Washington Post.
There was no shortage of compelling stories among the rejected, as the Post's write-up makes clear:
One inmate who was denied clemency is 64-year-old Bruce Harrison, a decorated Vietnam War veteran who was awarded two Purple Hearts. Harrison, who is in Coleman prison in Florida, has health problems and has served 23 years of a 50-year sentence for his role in transporting drugs in a government sting operation.

After Harrison and other members of his motorcycle group were sentenced, several jurors said they were dismayed to learn of the long sentence that was imposed.

"If I would have been given the right to not only judge the facts in this case, but also the law and the actions taken by the government, the prosecutor, local and federal law enforcement officers connected in this case would be in jail and not the defendants," juror Patrick L. McNeil wrote afterward.
Earlier this week, Republican Senator John Cornyn criticized Obama's unprecedented use of his clemency powers, saying, "People say, well why should we change the sentencing rules in criminal-justice reform if the president can just do it with a flick of his pen?"
Which seems like a question that Harrison — and the 82,000 other drug offenders in the federal-prison system — would be more than happy to answer.