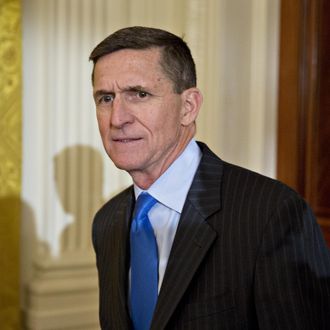 Michael Flynn.
Photo: Andrew Harrer/Bloomberg via Getty Images
The FBI has found no improper communication between National Security Adviser Michael Flynn and a Russian diplomat, say U.S. intelligence officials. Flynn, then adviser to President-elect Donald Trump, spoke with Russian ambassador Sergey Kislyak on December 29, the same day the Obama administration imposed a slew of sanctions on Russia for its alleged interference in the presidential elections. The FBI intercepted and listened in on the call as part of "routine electronic surveillance," officials told the Washington Post. Flynn, officials also said, was himself not a target of any investigation.
The Wall Street Journal first reported that agents were reviewing the Flynn-Kislyak chat on December 29, though Trump officials initially said it took place the day before, on the 28th. (Flynn and Kislyak allegedly texted on the 28th to schedule the conversation, and were trading holiday greetings.) At the press briefing Monday, White House Press Secretary Sean Spicer said the two had discussed setting up a call between Trump and Vladimir Putin after the inauguration, and that the Russian ambassador had extended an invitation to the Syria peace talks in Astana, Kazakhstan, which began Monday. (The U.S. ambassador to Kazakhstan is observing, but the U.S. isn't actively involved.) Spicer also said Flynn had offered his condolences for the Russian plane crash over the holidays, and that the new round of sanctions, and the expulsion of 35 Russian diplomats, never came up.