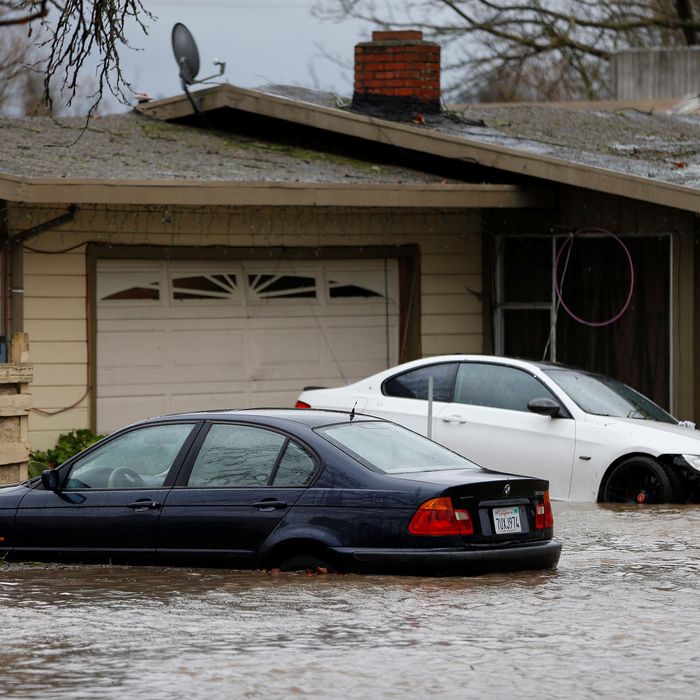 A partially submerged home and vehicles are seen during a winter storm in Petaluma, California, January 8, 2017.
Photo: Stephen Lam/Reuters
A powerful winter storm is lashing parts of Northern California and Nevada, overflowing rivers and unleashing floodwaters that have overwhelmed roadways and brought on mudslides.
The mighty storm — what the National Weather Service called a "once-in-1o-year event" — slammed the region Sunday night. Meteorologists term the storm an "atmospheric river," which brings moisture from the tropics. This one, coming in from Hawaii, is dubbed the "pineapple express." This type of weather system isn't that uncommon, but it can wreak havoc by dropping a lot of rain or snow in a relatively short time period. And the "pineapple express" hasn't visited California in quite some time, a meteorologist at the National Weather Service told CNBC — its absence has contributed to the state's historic drought.
More rain is expected Monday, which is now falling in Southern California, the state's most parched region. Parts of Nevada — which see less than a foot of rain per year — could get that and more in a few days. Up to 15 inches of rainfall could drop in the foothills of the Sierra Nevada mountains. Heavy snow will fall at higher altitudes in the mountains, bringing with it an increased risk of avalanches. Governor Brian Sandoval has declared a state of emergency in Nevada, where schools and government buildings are shut down.
The Russian River, in Sonoma, and the Truckee River near Nevada are two rivers threatening to crest. The rivers' rise has forced hundreds of thousands of people to evacuate homes as roads became deluged with water and debris.
Mud the length of a football field, with the sludge about seven feet deep, overtook Interstate 80, in the Sierra Nevadas, reports the Los Angeles Times.
At least one woman has died, after being hit by a tree, which was blown down by wind, while walking on a golf course.
A natural relic also became a casualty of the storm, when a famous sequoia was toppled in Calaveras Big Tree State Park on Sunday. Known as the Pioneer Cabin Tree, the sequoia had a 137-year-old tunnel drilled through it for hikers, and, at one time, cars could travel through.
The storms, as devastating as they may be in the short term, are not totally unwelcome arrivals. Even these precipitation-packed systems can't erase California's persistent drought — but this one is actually a pretty big start. The moisture has added to the Sierra Nevadas' vital snowpack, reports the Los Angeles Times, and to reservoirs in Northern California, a trend that, if it lasts, could be a critical turning point for the state.