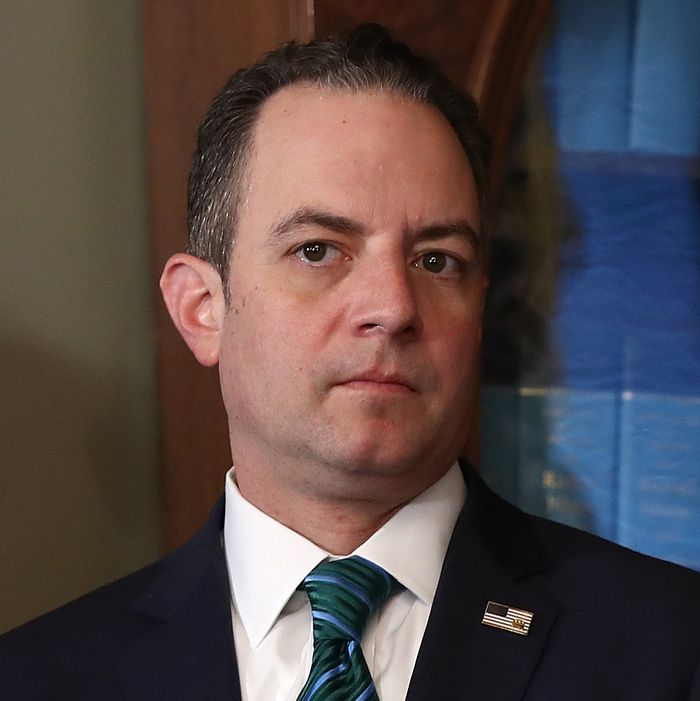 Chief of the Muddle.
Photo: Win McNamee/Getty Images
Sunday morning on NBC's Meet the Press, White House Chief of Staff Reince Priebus appeared to reverse the Trump administration's new policy on whether or not legal U.S. permanent residents, or green-card holders, were exempt from President Trump's executive order banning citizens of seven majority-Muslim nations (Iran, Iraq, Libya, Somalia, Sudan, Syria, and Yemen). CNN reported on Saturday that the Department of Homeland Security, which was apparently not prepared for Trump's order to immediately take effect on Friday, had quickly conducted its own legal analysis of the Trump order and concluded that green-card holders would be exempt from the new policy. That conclusion was then promptly overruled by Trump advisors Steve Bannon and Stephen Miller, according to CNN, leading to chaos as contradictory instructions were given out on how to deal with travelers possessing permanent U.S. residency.
On Sunday, Priebus denied that the White House had overruled the DHS, and insisted that green-card holders were not affected by the order — unless they had traveled to one of the seven countries on the Trump administration's ban list. Or that's what Priebus sort of said, considering he essentially reversed himself, in reversing the White House policy, first remarking that "We didn't overrule the Department of Homeland Security, as far as green card holders moving forward, it doesn't affect them." He later added, under pressure from Meet the Press host Chuck Todd, that "of course" the executive order impacts green-card holders, since "if you're traveling back and forth [to the banned countries], you're going to be subjected to further screening."
Priebus additionally said that it was up to Customs and Border Patrol agents to exercise their "discretionary authority" on how to handle permanent residents who had traveled from the seven banned countries. At one point, Priebus also indicated that the additional discretion might simply entail "a few more questions." That all seems to contradict Gillian Christensen, the acting Department of Homeland Security spokesperson, who told Reuters on Saturday that Trump's executive order "will bar green card holders."
He also claimed the implementation of the ban "wasn't chaos" and that the White House "apologizes for nothing," adding that the rapid implementation of the order was the best plan because sometimes " you've got to rip off the band-aid."
Of course, contrary to Priebus's assessment, over the weekend there were numerous reports of U.S. green-card holders being barred from flights or detained at U.S. ports of entry, indicating that whatever the White House does intend as the new policy for legal U.S. residents who are citizens of the listed countries, the communication and implementation of that policy has failed. Priebus's comments on Sunday seemed to add to the confusion; though, perhaps he is outlining a new policy, as he says, "moving forward."
Looking back, it wasn't just unclear, in the immediate aftermath of Trump's executive order, whether or not green-card holders were exempt. Once the White House reportedly overruled the DHS on the issue, it was also not clear if green-card holders were even allowed to travel to the U.S., and many airlines were apparently told that they should not allow those travelers to board planes bound for the U.S. Later, the settled DHS policy then apparently became that green-card holders could travel to the U.S., but would be subject to secondary screening after arriving and be approved their reentry to the U.S. on a case-by-case basis. Still, other reports, per Trump administration officials, indicated that green-card holders would have to apply for a waiver for reentry before returning to the U.S., but the details of that waiver process, should the process actually exist yet, were not detailed.
Now, according to Priebus, it seems that green-card holders should be allowed both to fly to and to enter the U.S., provided they haven't traveled to their home country, should it be one of the seven listed under the Trump ban. If that's the case, then they will face an indeterminate amount of additional scrutiny.
The White House Chief of Staff, echoing an unnamed Trump administration official who spoke with CNN on Saturday, also indicated that the seven countries on the ban list were just a starting point, and more countries may be added to the list in the future, pending a Trump administration review process.