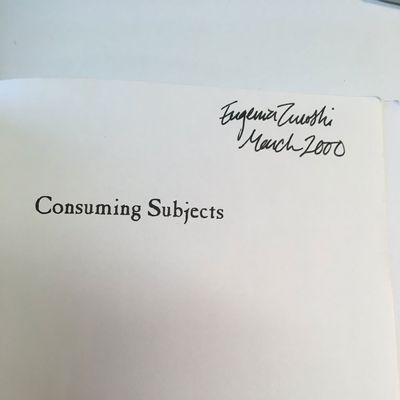 Zuroski's long lost book.
Photo: zugenia/Twitter
Back in 2000, Eugenia Zuroski, then studying to earn her M.A./Ph.D. at Brown University, purchased a copy of Consuming Subjects: Women, Shopping, and Business in the Eighteenth Century by Elizabeth Kowaleski-Wallace. She wrote her name and the year in the upper-right-hand corner of the title page, but somewhere over the decade that followed, Zuroski, who is now an associate professor of English at McMaster University in Hamilton, Ontario, lost track of her copy. "I know I moved it with me from Providence to Haverford, Pennsylvania, then to Fayetteville, Arkansas, and then up here to Hamilton," Zuroski told Select All. "But four or five years ago I must have lent it to a student and it just didn't come back. It happens."
This December, she decided it was "silly" that she didn't have her own copy of Consuming Subjects, given that she frequently recommends it to her students, "which is why I lent it out to begin with." She ordered "the cheapest used copy available" from Amazon and thought nothing else of it. When the book arrived — shipped via Thriftbooks.com in St. Louis — Zuroski "wondered whether it would feel weird to read someone else's copy of this book, with someone else's underlining and marginalia." But upon opening the cover, she realized she wouldn't need to worry. Weirdly, the copy she purchased was the book she lost all those years back.
"I turned the book over and noticed that the original price sticker on the back looked an awful lot like the Brown Bookstore label on my copy. Then I opened it to the title page and saw my handwriting: 'Eugenia Zuroski / March 2000,'" Zuroski says. "My heart actually started racing." Zuroski says she doesn't remember whom she loaned the book to and she now keeps better track of which students are borrowing her texts.
As for what the book is, you know, actually about, Zuroski says Consuming Subjects is very apropos for her recent book reunion. "It's in part about how women's shopping practices since the 18th century encourage us to identify with the objects we purchase."