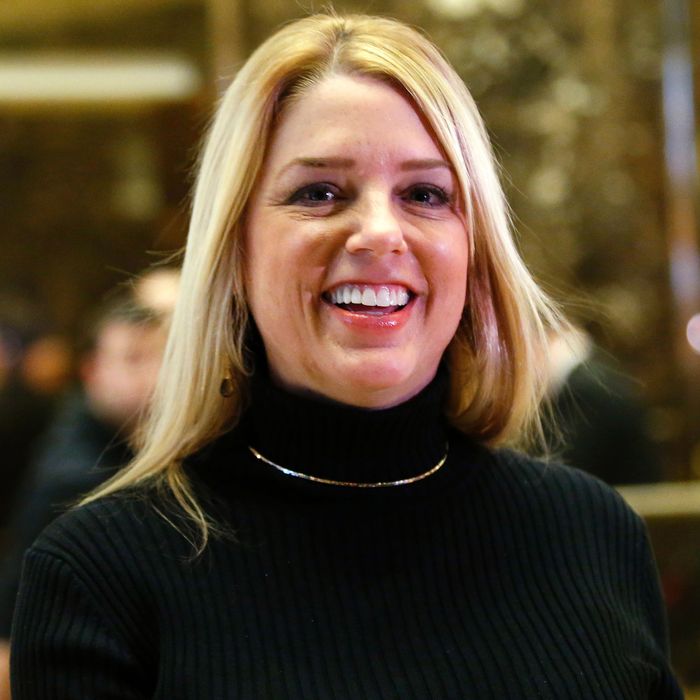 Pam Bondi.
Photo: Kena Betancur/AFP/Getty Images
On September 13, 2013, the Florida Attorney General's office announced that it was considering taking legal action against Trump University, amid allegations that the real-estate investment school had defrauded its student body.

Four days later, Donald Trump's personal charity (illegally) donated $25,000 to a political group aligned with Florida Attorney General Pam Bondi's reelection campaign. Shortly thereafter, the Sunshine State's chief prosecutor decided that there were "insufficient grounds" to proceed with a probe of the mogul's school.
Last summer, the Associated Press revealed that Bondi had personally solicited a donation from Trump — around the same time that her office was debating whether to pursue an investigation of his university.
At a 2015 GOP primary debate, Trump boasted of his talent for buying favors from politicians, explaining, "When they call, I give. And you know what? When I need something from them, two years later, three years later, I call them, and they are there for me."
This fall, Trump agreed to pay out $25 million to those who did bring suit against his school.
On Thursday — less than two months after Trump won a presidential election on a promise to "drain the swamp" of D.C. corruption — his transition team told Bloomberg that Pam Bondi will take a job in the new White House.
In a more rational political universe, that last development would never follow the preceding ones. Why would a president-elect with populist pretensions go out of his way to heighten the visibility of an attorney general whom he, at the very least, appears to have paid to drop a fraud case against him, using money that was earmarked for charity?
But, in our fallen realm, the answer is simple: Because, apparently, he can.