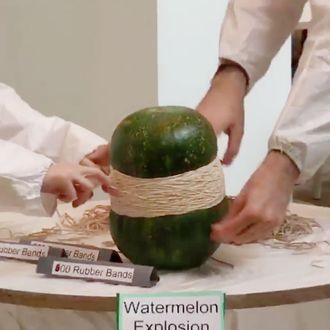 BuzzFeed's watermelon, from last April, provides an apt metaphor.
Facebook's aggressive attempt to entice the people of Earth to broadcast their mundane activities to the world over live video appears to have hit a bump in the road. According to Recode, "Facebook is de-emphasizing live video" during talks with publishers, and many of those who signed contracts in which Facebook subsidized their livestreaming efforts do not expect to renew those terms.
Instead, Facebook is reportedly encouraging publishers to produce premium video along the lines of something that you might see on Netflix, to use Recode's comparison. Facebook has been reluctant to admit that it is a media company, claiming it was a mere tech platform until late last month, when Mark Zuckerberg capitulated: "Facebook is a new kind of platform. It's not a traditional technology company. It's not a traditional media company. You know, we build technology and we feel responsible for how it's used."
Facebook was shelling out millions to celebrities and established media brands, requiring them to make a set number of live videos every week. Sites like BuzzFeed and the New York Times were reportedly both paid more than $3 million to produce footage. CNN, Vox Media, and celebrities like Gordon Ramsay and Kevin Hart were also compensated.
Many large media companies have significantly reoriented themselves around video, laying off editorial staff (Mashable) or restructuring (Tronc) in order to make room for more audiovisual content. Other leading digital-media brands have taken on significant funding from traditional broadcasters like NBCUniversal (BuzzFeed, Vox) and Disney (Vice). Facebook's encouragement of these companies to put more TV-like content on their platform is not surprising.
But pumping the brakes on its Live initiative also appears as the first inkling of an acknowledgment that Facebook fundamentally misunderstood the purpose of livestreaming on the web, which functions in a very different way than, say, a live television newscast. Hell, the most popular live videos include BuzzFeed's watermelon video and Chewbacca Mom, which was just a woman laughing in her car for four minutes.
The most important and truly compelling use cases for Facebook Live came during events that are impossible for digital publishers to replicate: House Democrats staging a sit-in for gun control; an attempted coup in Turkey; and last but not least, the killing of Philando Castile at the hands of police.
This is not really the end of Facebook Live as a whole, but it is the end of the glut of mediocre, heavily produced livestreams that might have been clogging your News Feed. The contracts Facebook inked were meant to kickstart the trend, not sustain it indefinitely.
Facebook's live video was meant to solve the problem of a decrease in original sharing — people sharing less about themselves. Why they decided approaching professional publishers to make professional video would be the best way to make it seem accessible was always a more than a little confounding. The most popular livestreaming services are, by any stretch of the definition, mundane. Video-game streamers on Twitch spend hours sitting motionless, flapping their gums. YouNow is a platform for teens to vlog about chem class from their American Room. Snapchat, while not truly live, is close enough, and it's ephemeral. Mark Zuckerberg, in his own words, wanted livestreaming to be more raw, more visceral, and less rehearsed, and yet he decided that outlets like CNN were the best way to embody that ethos. And he wanted the videos to be archived permanently on the servers of the world's largest commercial data-collection operation. No wonder the live program has been slow going.