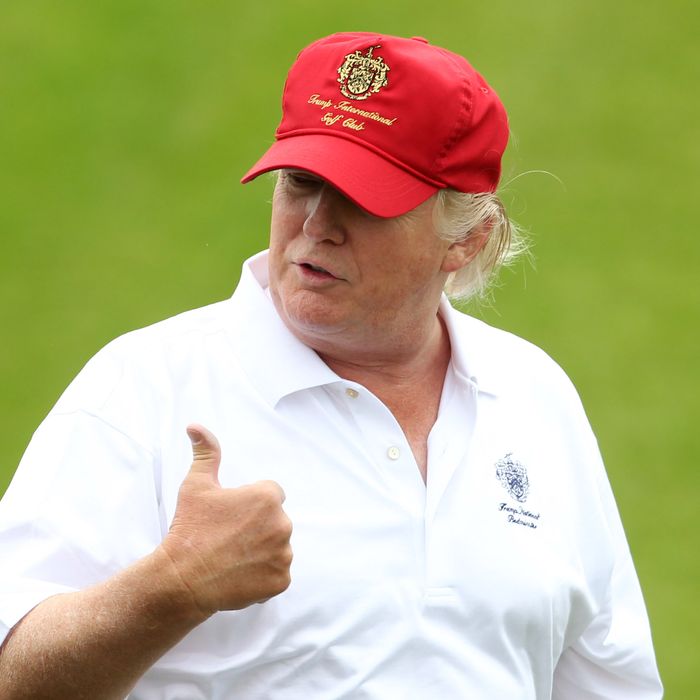 The future golfer-in-chief.
Photo: Ian MacNicol/Getty Images
President-elect Donald Trump reportedly ejected a critical biographer from his Trump International Golf Club in West Palm Beach, Florida, on Friday, after running into the author, former Newsweek correspondent Harry Hurt III, while playing on the course. Politico says that Hurt, who wrote the now-out-of-print 1993 biography Lost Tycoon: The Many Lives of Donald J. Trump, was at the club playing golf with his friend, billionaire and conservative-cause financier David Koch, and two others. It's not totally clear what exactly went down regarding the ejection, since there are four versions of the story between Hurt, an unnamed Trump transition-team official, a Koch associate, and GOP donor John M. Damgard, who was also part of Hurt and Koch's four-person golfing group.
According to a third-person post on Hurt's Facebook page, he approached Trump at a practice tee to wish him congratulations on his election as president, and Trump took the opportunity to criticize the veracity of Hurt's biography. Hurt says he replied that his book was "all true" (it reported, among other allegations, that Trump's ex-wife Ivana had accused him of rape in court documents pertaining to their divorce — a claim she later recanted). The testy exchange then ended with Trump telling Hurt, "you're out of here" (per the Trump transition official) and/or Trump telling Hurt it was "inappropriate" for him to be present at the course (per Hurt). The author then says he, David Koch, and the other members of their group were then escorted to the club's parking lot by security personnel, and went on to play at the Emerald Dunes golf course instead, "which is a much, much better golf course than Trump International," according to Hurt. He also said that Koch called Trump "petty" and "vulgar" on account of the incident.
According to the unnamed Trump transition official who spoke with Politico, the exchange went as Hurt described it, but added that Hurt was "trying to instigate" a confrontation with Trump, suggesting that the author was looking for publicity. The official also said that Hurt didn't leave after he was told to, but rejoined his golfing group, and that "course security actually had to go and tap him on the shoulder and tell him to leave," and after Koch protested, they told the billionaire GOP donor that he could either leave with Hurt or play without him. (Hurt said the reason they didn't immediately leave was because they had to collect their belongings, but that they weren't forced out either.)
According to Damgard, another golfer in the group, they never even interacted with club security, and just decided to depart together after hearing that Hurt had been told to leave — though he added that Hurt didn't detail his exchange with Trump at the time. Damgard also said that Hurt had approached Trump because he was "with a young lady who was a friend and he thought it would be fun to introduce her to the president-elect." He said he only learned of the "bad blood" between Trump and Hurt afterwards.
According to one of David Koch's associates who was briefed on the incident and spoke with Politico, Hurt only went up to Trump as a courtesy. Koch is a member of Trump's golf club, and when Hurt, a longtime golfing buddy, offered to leave the group after the Trump incident so they could keep playing, Koch replied, "No, we came as a foursome and we'll leave as a foursome." Damgard insisted that Koch would have tried to avoid the incident if he had known it were possible beforehand, since he loves golfing at Trump's club so much. Koch and his brother Charles sat out the 2016 presidential election, as both were publicly displeased with the available candidates after Trump won the Republican nomination.
Hurt no longer writes books and now apparently teaches high school and college courses. Over the summer, he asked his publisher for Lost Tycoon, W.W. Norton, to republish the biography in light of Trump's presidential campaign, but they declined, citing legal risks and expenses. Hurt tried to self-publish the book on Amazon, but apparently sold only 60 copies. He and a small publisher then ran a modest Kickstarter campaign to republish a limited run of the book and framed the fundraiser as a way to help prevent Trump from becoming president. It successfully raised $5,392.