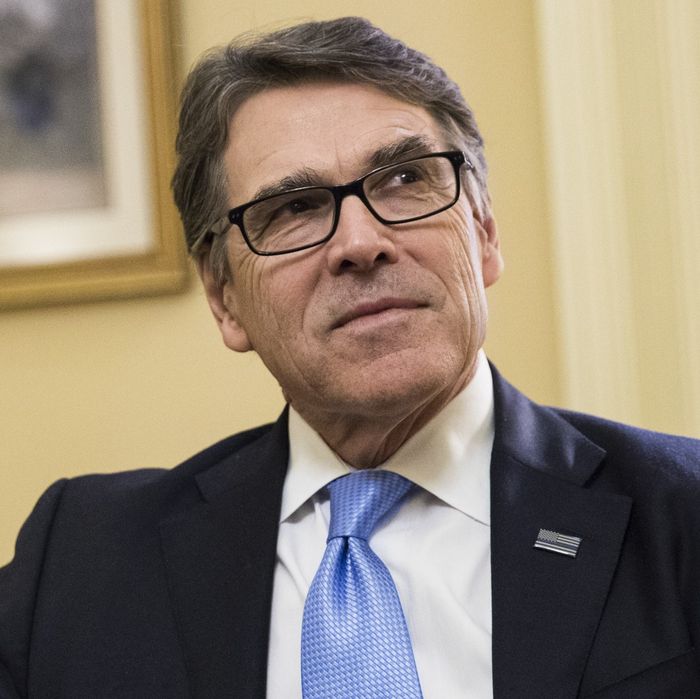 Photo: Anadolu Agency/Getty Images
Though he's started wearing trendy glasses, Rick Perry is still haunted by the suggestion that he's not that smart, mainly because he forgot that the Department of Energy was the third federal agency he'd like to abolish.
Matters only got worse when Donald Trump tapped the former Texas governor to run that department in an apparent attempt to make the most ironic selection possible. Now people weren't just snickering at Perry because he had a momentary memory lapse, they were laughing because he's not a brilliant scientist. Here's a typical quip from USA Today:
A nuclear physicist currently holds the role, and a Nobel Prize-winning physicist held the job before that.

Perry's background is a bit different: He studied animal husbandry at Texas A&M. He also once frolicked to the "Green Acres" theme on TV's Dancing With the Stars.

On Wednesday, the eve of Perry's confirmation hearing, the New York Times furthered this narrative, reporting that he didn't even know that two thirds of what the Energy Department does is maintaining the nation's nuclear weapons stockpile. Per the Times:
When President-elect Donald J. Trump offered Rick Perry the job of energy secretary five weeks ago, Mr. Perry gladly accepted, believing he was taking on a role as a global ambassador for the American oil and gas industry that he had long championed in his home state.

In the days after, Mr. Perry, the former Texas governor, discovered that he would be no such thing — that in fact, if confirmed by the Senate, he would become the steward of a vast national security complex he knew almost nothing about, caring for the most fearsome weapons on the planet, the United States' nuclear arsenal …

"If you asked him on that first day he said yes, he would have said, 'I want to be an advocate for energy,'" said Michael McKenna, a Republican energy lobbyist who advised Mr. Perry's 2016 presidential campaign and worked on the Trump transition's Energy Department team in its early days. "If you asked him now, he'd say, 'I'm serious about the challenges facing the nuclear complex.' It's been a learning curve."
McKenna pushed back after the report sparked another round of mockery, telling the Daily Caller that the Times's headline and lede "don't really reflect what I said." He added that "of course" Perry knew what the Department of Energy does.
He didn't elaborate on how his remarks were intended, but there is a more generous interpretation. One can certainly make the argument that Perry has no business being energy secretary (and senators will likely make that point repeatedly on Thursday). But doesn't Perry deserve a tiny bit of credit for being smart enough to realize he should be focusing on the most dangerous weapons on the planet?