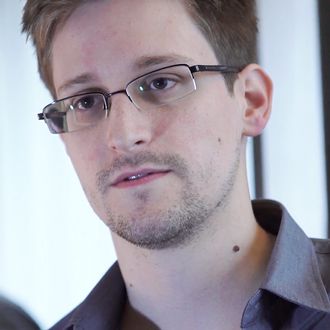 Photo: Handout/Getty Images
Russia's Foreign Ministry clarified today that it was permitting NSA leaker Edward Snowden to remain in the country for another three years, extending the asylum he was granted in 2013 shortly after fleeing the United States. "Snowden had just extended the term of the residence permit in Russia for another couple of years," Russian government spokesperson Maria Zakharova wrote on Facebook. According to the New York Times, Snowden's lawyer told a state-run news agency that the permit was valid until 2020.
Snowden has long argued that his actions, which shed light on the NSA's vast, covert surveillance apparatus, are worthy of a pardon. The Obama administration has indicated that it has no plans to issue a pardon, noting that Snowden has not surrendered or stood trial for his purported crimes, unlike Chelsea Manning, who was granted clemency yesterday. It is nearly inconceivable that incoming president Donald Trump would pardon Snowden.