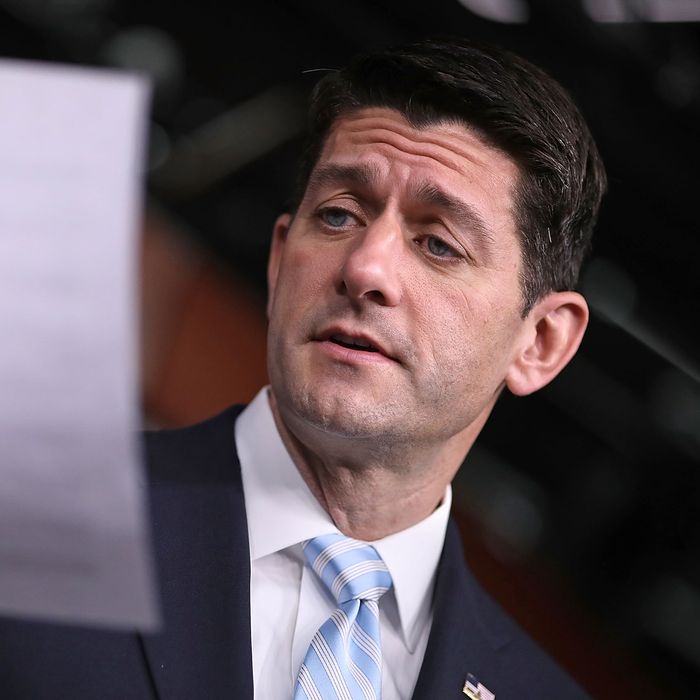 Wow, none of this makes sense!
Photo: Chip Somodevilla/Getty Images
During a CNN town hall on Thursday night, on the eve of a vote in the House that is expected to give Congress final approval to begin gutting the Affordable Care Act, House Speaker Paul Ryan was asked a question that's weighing on both Obamacare advocates and rank-and-file Republican lawmakers. "Why would you repeal the Affordable Care Act without a replacement?" wondered a Republican small-business owner and cancer survivor.
"Oh, we wouldn't do that! We want to replace it with something better," Ryan replied. Before he could finish, the questioner interrupted to "thank President Obama from the bottom of my heart because I would be dead if it weren't for him."
After noting that he's happy the questioner isn't dead, Ryan described what a disaster Obamacare is. "The law is collapsing, and so we've got to rescue people," he said.
"We want to do this at the same time, and in some cases in the same bill," Ryan told moderator Jake Tapper. "So we want to advance repealing this law with its replacement at the same time."
This sounds reassuring, until you consider that Congress will probably advance its effort to repeal Obamacare on Friday, and the Republican replacement plan still doesn't exist.
Ryan is in an impossible position, as is often the case. For years, Republicans have been saying that the Affordable Care Act is so onerous that it must be repealed immediately and replaced with "something better" — but they never coalesced around what that something might be. Further complicating the situation, as the Washington Post's Paul Kane points out, is the Republican claim that Democrats rammed the ACA through Congress too quickly. This is why opponents of the ACA were chanting "read the bill" back in 2009 (though it took 15 months to get the legislation passed). Kane explains:
Republicans are heading toward a bitter fight over two competing cornerstones of modern conservative ethos: the read-the-bill, take-our-time, Schoolhouse Rock mantra that fueled this decade's tea party revolution, and their utter hatred for the Affordable Care Act.
This week, members of the far-right House Freedom Caucus and some moderate Republican lawmakers questioned the logic of beginning the long journey to Obamacare repeal when there's no agreement on where they're headed. Per the Post:
"We just want more specifics," Rep. Mark Meadows (R-N.C.), chairman of the conservative House Freedom Caucus, said Wednesday. "We need to know what we're going to replace it with." Meadows said he was personally undecided on his vote Friday and that other caucus members were leaning toward no.

Rep. Charlie Dent (R-Pa.), chairman of the moderate Tuesday Group, said members of that caucus have "serious reservations" about starting the process without replacement plans spelled out. "We'd like to have this conversation prior to the repeal vote," he said.

The solution Ryan and other GOP leaders have come up with is to begin the repeal process while assuring their wary colleagues that this week's votes are just procedural. They're correct that, technically, the votes held this week won't repeal Obamacare. It's the first part of a confusing three-step procedure that will allow them to defund Obamacare through budget reconciliation, bypassing a Democratic filibuster. The Senate just passed a budget resolution, and once the House approves the legislation the committees can begin working on how to do away with parts of Obamacare (but only aspects that relate to the federal budget).
Once they agree on a plan, it will go up for a vote in the House and Senate. If it gets a simple majority, Obamacare will be defunded, with the president's signature.
The legislation being voted on this week sets January 27 as a nonbinding deadline for the committees to come up with a plan to repeal the ACA. There's no deadline for enacting a replacement plan, which would require 60 votes in the Senate to pass.
To make matters even more difficult, Donald Trump has been voicing his own contradictory thoughts on the fate of Obamacare. On Tuesday he told the New York Times that he thinks he can pressure eight Democrats into voting for a Republican replacement plan. That seems unlikely, but it makes more sense than his timeline for the process. As New York's Jonathan Chait wrote:
Trump stated that the Senate must repeal Obamacare "probably some time next week," and that "the replace will be very quickly or simultaneously, very shortly thereafter." That is completely impossible. It takes months to design a comprehensive reform plan for one-seventh of the economy, even if you have a party committed to a shared vision.
Then at his press conference on Wednesday, Trump said he'd be "filing a plan" as soon as Tom Price, his pick for Health and Human Services secretary, is in place. His confirmation hearing hasn't been scheduled yet.
Thursday, at his weekly press conference, Ryan confirmed that Republicans won't magically repeal and replace Obamacare "some time next week." He suggested details on the GOP plan will be available after their congressional retreat, which will take place the week after the inauguration.
"This will be a thoughtful, step-by-step process. We're not going to swap one 2,700-page monstrosity for another," Ryan said, criticizing the way Democrats passed the ACA. "We're going to do this the right way, we're going to do this the way it was designed to do, through the congressional committee system."
But just a moment later, Ryan said the threat posed by Obamacare is so great that repeal must be passed quickly: "Of course, our goal, though, is to deliver relief as soon as possible, because this is just not a matter of us keeping our promise to the American people. This is a rescue mission."
Ryan told reporters that he and Trump are "completely in sync" on health care, and later her underscored that point by posting a confusing tweet:
The House speaker and the president-elect are indeed perfectly in sync, in that little about their stated vision for the repeal and replace of Obamacare makes sense.
Correction: A previous version of this post incorrectly stated that the president does not need to sign the legislation to defund Obamacare. We regret the error.