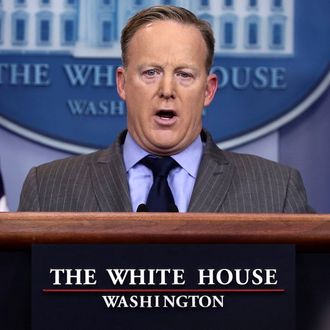 Sean Spicer.
Photo: Alex Wong/Getty Images
Over the weekend, Trump press secretary Sean Spicer gave a briefing in the White House press room where he stated Friday's inauguration was the largest in history. This is patently untrue. An "alternative fact," if you will. Memes were born. A hashtag was created. And, perhaps most entertaining (if you can get past the disturbing realization that the president's press secretary just stood up and proclaimed falsehoods as truths), people began mining through Spicer's old tweets. From a feud with Dippin' Dots to hot takes on Daft Punk, Spicer's got a real way with 140 characters.
On "the ice cream of the future."
On Daft Punk.
On emoji diversity.
On breakfast meat.
On cell phones.
On cinema.
On catching up on dance crazes several years late.
On Lady Gaga.
Sean, pal, maybe consider spending some time with a tweet-deleting service.